Breaking News!!! Suspected Bandits Invade Abuja Estate, Kidnap Pastor, His Family, Others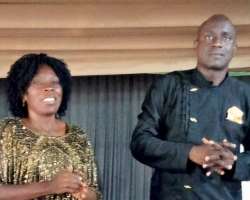 Abducted Pastor Collins Ugwu and wife
Suspected bandits have abducted a Pastor, his wife, two children, his brother and about three other families in Chikakore estate, opposite Champion Assembly headquarters in Kubwa, an Abuja suburb. The incident is said to have happened at about 1:00 am this morning.
Sources told our correspondent that the invading kidnappers were intercepted by the estate security who initially thought that they were robbers. Th security later engaged them in a fierce shootout. They however overwhelmed the estate security and escaped with the Pastor, his family and about 3 othe families whose compositions can not be ascertained at this time. They escaped through the rail tracks into the mountains with the abductees. The police have responded and are in pursuit of the criminals.
Pastor Collins Ugwu who was abducted alongside his family and others is a Pastor of Goodnews Bible Church located around Kubwa market, close to Kubwa NYSC camp.
Recall that on January 1, 2023, there was a similar attack in Kubwa where four persons were reportedly abducted by the audacious bandits.
Kubwa is a residential district in Bwari, one of the local government areas in the Federal Capital Territory in Nigeria. It is one of the major suburbs within the metropolitan area of Abuja.