Goodseed Daily Devotional 9th March 2023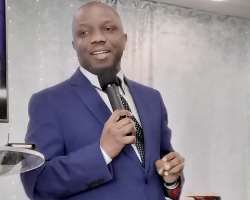 Apostle George Amadi (Lead Pastor: Goodnews Bible Church, London)
Topic: STOP HIDING YOUR RELATIONSHIP WITH GOD
SCRIPTURE: Now when Daniel knew that the writing was signed, he went into his house; and his windows being open in his chamber toward Jerusalem, he kneeled upon his knees three times a day, and prayed, and gave thanks before his God, as he did aforetime. Daniel 6:10
It has been confirmed that behind every attention-commanding result, there are secrets. It is not possible to see a person flying high in life without secrets. That is why life remains a struggle until secrets are discovered or certain principles are upheld.
Now, one of the secrets of flying high in life is unhidden spirituality and prayerfulness.
Spirituality is key to authority. Prayerfulness is key to usefulness. You cannot be prayerful and be useless on earth. Your spiritual base determines your destiny base.
To seek God first is to have all other things (Matthew 6:33).
Some people say, "But there are people who do not know God but are successful". The truth is, you need to find out how well they are doing. Find out about their dreams in the night, the symptoms in their bodies, the fears of their lives, and the dangerous evil covenants they may have entered into in order to acquire and sustain the so-called success.
Beloved, success is not just about having money; it is not about flying around the world. Success is having peace with God and being established in the Centre of God's Will and Plan for your life. It does not matter how much money you have or what position you occupy, if you do not have peace with God, you are a failure.
Daniel had an unhidden life of spirituality and prayerfulness (Daniel 6:10). And he was flying very high in his days (Daniel 6:1-3). People could not find anything against Daniel except it pertained to the Law of his God (Daniel 6:5).
Beloved, there is nothing to be ashamed of in serving God. Those who are serving the devil are serving him shamelessly. Why should we serve God shamefully.
Anywhere you find yourself, let people and the devil attest to the fact that you are a child of God.
Talk to someone about Jesus today; and let people know what God is doing in the lives of His people in His Church.
PRAYER: Lord, thank You for the privilege to be identified with You. I receive the grace to reach out to the world with the Gospel of Jesus Christ, in Jesus' Name.
Goodseed Daily Devotional is the publication of Apostle George Amadi- Senior Pastor Goodnews Bible Church London. If you are in the London area do worship with us at 2nd Floor Unit 4 Westmoreland House Scrubs Lane White City NW10 6RE