Kano Senator-Elect, Shekarau Rejects INEC's Certificate Of Return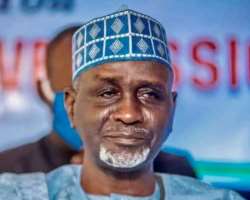 Former governor and current Senator representing Kano Central, Ibrahim Shekarau, refused to appear at the International Conference Centre (ICC) where the Senators-elect were presented their certificate of return on Tuesday.
Shekarau, who was declared by the Independent National Electoral Commission (INEC) as the winner of the February 25 senatorial election for Kano Central under the platform of the New Nigeria Peoples Party (NNPP), has been having a running battle with the leadership of party over defection.
The former governor, who was said to have left the party, also refused to attend the presentation of the certificate of returns to senators-elect.
While speaking on the development, Shekarau's spokesman, Sule Y. Sule, said his principal had already noted that he would not collect the certificate of return.
He said: "We have already made our position clear on the issue. Senator Shekarau is not interested and will not collect the certificate of return. As a matter of principles and personal conviction."
The Nigerian Voice understands that the national chairman of the NNPP, Prof Rufai Alkali, after Shekarau emerged winner of the Kano central senatorial election, said the former governor left their party, even though, he was returned by INEC as senator-elect for Kano Central.
Alkali said: "We are not supposed to talk on this, but Shekarau accepted to join our party, we accepted him, he got a ticket to run for the Senate seat in Kano South, but he later wrote to our chairman that he has resigned from the party. Another primary was conducted and Sani Hanga emerged but INEC did not accept his name, we went to court and won the case, they went to Supreme Court.
"INEC is not a political party, why go to the Supreme Court? I know that in the court of public opinion, there is a place of morality. We are at the Supreme Court on the Shekarau case," Alkali said.
Meanwhile, the national publicity secretary of the NNPP, Dr Major Agbo, held that Shekarau has no business going to collect the certificate of return since he resigned from their party.
"The good thing is that our party won. The matter is still in court but the party will present the person that is the rightful candidate for the Kano Central because we sent our list to INEC but they are yet to honour it."