Breaking News! Gov. Umahi's SA, Mark Onu, Endorses Odii For 2023 Ebonyi State Guber, Defects To PDP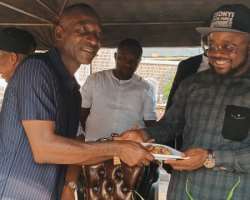 Onu presenting kolanuts to Dr. Ifeanyi Chukwuma Odii
In the build up to the 2023 governorship election in Ebonyi State, the charismatic PDP governorship candidate for Ebonyi State, Dr. Ifeanyi Chukwuma Odii, has dug a crater in the support base of the outgoing governor of Ebonyi State, David Umahi. Odii has harvested the soul of Umahi's political vibrancy through the defection of the the National President of Akubaroha Youth Assembly and Special Assistant to Governor Umahi on Youth Mobilisation and Drug Control, Hon. Mark Onu. Mark Onu defected from All Progressives Congress, APC, to Peoples Democratic Party, PDP on Friday, 3rd March, 2023. Mark Onu defected to PDP during his well-attended birthday celebration which held in his Amike Aba palatial home. Dr. Ifeanyi Chukwuma Odii and some members of his team comprising the pioneer Commissioner for Environment, Dr. Paul Okorie; Ebonyi PDP Legal Adviser, Barr Mudiaga Ehrenede; former Special Assistant to the governor of Ebonyi State on Attitudinal Change, Hon. Ray Nkama; and others were present. Akubaroha Youth Assembly is the youth organization named after Engr. David Umahi who holds the chieftaincy title of "Akubaroha". It was on the back of that organisation that the outgoing governor of Ebonyi State rode to power in 2015 and sustained himself in office until he faded politically. Mark Onu was not alone in the defection. That the entire Akubaroha Youth Assembly structure who sang the "Anyi G'emeya" victory anthem as well as many political movers of Okposi in Ohaozara Local Government Area of Ebonyi State where Umahi hails from were with him was a big pointer to the fading fortunes of Umahi and his political empire.
Chief Odii and others standing with Hon. Mark Onu during the breaking of cake
Declaring his political stand, Hon. Mark Onu said that his reason for joining Odii was because Ebonyi State was in dire need of Ifeanyi Odii; and that beyond Ebonyi people's crave; God has given him revelations through many servants of God that Ifeanyi Chukwuma Odii is the next governor of Ebonyi State. According to Onu, "I will never denigrate Engr. David Umahi because he has been good to me and I even named my child after him. I have not resigned from Umahi's government, but he can sack me if he is not comfortable with my political movement." Continuing, Onu announced the formation of "Odozi-Obodo Youth Assembly, a youth support group, for Ifeanyi Chukwuma Odii".
Onu presenting kolanuts to Dr. Ifeanyi Chukwuma Odii.
Responding, the frontline candidate in the 2023 Ebonyi State governoship election, Dr. Ifeanyi Chukwuma Odii, thanked Hon. Mark Onu for taking what he called "a courageous step". Odii explained that the "Anyi G'Emeya governorship project is God's project". Odii explained that it was God that saw his ticket through its tumultuous journey so far. Odii assured the mammoth crowd that Ebonyi State and her people will witness unlimited prosperity, freedom and development under his administration.
Highpoints of the celebration were cutting of the birthday cake, exchange of gifts and political fanfare.