SANI ABACHA; THE LESSON WE ALL FAIL TO LEARN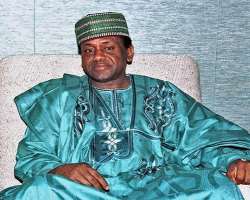 PHOTO: LATE DICTATOR, GENERAL SANI ABACHA.
On 14 September 2001, as my wife and I with our little boy were diving through Bishops Avenue, Hampstead, London, Nkiru, our friend who lived in the neighbourhood and who had come to pick us at the Underground station asked if we would like to see late General Sani Abacha's house on the avenue. Yes! I said, even though I wasn't really sure my wife was keen about it. Bishops Avenue is one of UK's most opulent street. It is also known as Billionaires' Row because many well known international wealthy men have a penchant to have a house there as the ultimate status symbol. It is more easily compared to a slimmed-down version of America's Bellevue Avenue, in Newport, Rhode Island. Some of the houses there are owned by the Saudi royal family, whilst other notable owners of houses on the street include the Sultan of Brunei. Mamma MIA! I shouted at the sight of Abacha's massive mansion in the expansive and expensive compound. While the avenue was not famous for small houses, Abacha's house was one of the grandest on the road where the smallest house is known to cost over £5m. Babangida also had a house there. I was reliably told Sani bought the house while he was the president of Nigeria and records showed he never travelled to UK nor any Western country throughout his presidency which indicates that the best he could have seen of the house was just the picture or the video of it. He never had the privileged that I had to drive in front of the stately gate and fence of the stately house. I had the opportunity to see the house live but he didn't, I could behold the beauty and the magnificence which he couldn't. Then I wondered what a waste of resources? Why did he build a house he never needed and would never enter nor live in? Why steal to acquire earthly possession all over the place as if here is the final destination? Why? Why? Why? How many of such houses did he acquire? Did he own other mansions in Kensington Palace Gardens in London (world's most expensive neighbourhood) or Jupiter Island in Florida or Belle Haven in Greenwich, or Victoria Peak in Hong Kong or Seventh Arrondissement in Paris? Who knows? The old Latin proverbs say a wise man learns by the mistakes of others, a fool by his own. Going by the account of this proverb, a wise man will never wait to make a mistake that someone else has already made before he learns his lessons. But often times, we see people who fail to learn even from their own mistakes. Naturally, one would have expected Nigerians especially the political class and the business leaders to learn a lot of lessons from the rise and unceremonious fall of the late Abacha since most of us (adults) were living witnesses of the regime of terror of the notorious and kleptomaniac dictator. With up to $5 billion in stolen funds, Abacha made Transparency International's top five looters - that is, he was considered one of the world's most corrupt leaders in recent history. Sani was the military dictator of Nigeria from 17 November 1993 to 8 June 1998. His reign of insatiable greed, wanton wickedness and reckless power intoxication was the darkest point in the history of our nation since the end of the civil war and was to be a great lesson for everyone who has chosen to be wise. His abrupt end showed that power is only transient. Sani, like all other military heads of State before and after him was a defacto president who had all the power to do great thing but failed. He eschewed greatness. He had the same absolute power as some of the dictators in Southeast Asia who used theirs to turn their countries to economic giants that are now known as Asian Tigers. Needless to write here that the economic miracles of the last 35 years in Malaysia, Indonesia, South Korea, Taiwan and Singapore were mostly championed by leaders with authoritarian inclinations. Sani was rather brutal and repressive with the power he had.
Sani would go to any length to crush his perceived enemy as if the power of life and death belonged to him. As a notorious coupist, he was suspicious of everyone; young and old, poor and rich; high and lowly; national icon and local champion. He was never tired to unleash his 'Roger' team on anyone or order Al-Mustapha to give 'VIP treatment' to people. Sani was stealing our oil money 24/7 as if the oil wells were going to dry up the next day. When General Abdulsalami Abubakar was appointed head of state upon Sani's death, Abubakar's government delivered a clear message to the Abacha clan that Sani had looted huge sums, and they had to be restored. Members of the Abacha family and some of their accomplice 'voluntarily' returned approximately $1 billion to the Federal Government of Nigeria during his 'interim' tenure. Obasanjo's government also implicated the deceased general and his family in wholesale looting of Nigeria's coffers. The extent of his venality seemed to have surpassed even that of his more notorious military predecessor whom many believed institutionalised corruption in our system and who still need to clear himself of the allegation of swindling the Nations' oil windfall during the first Gulf war. In 2002, $1 billion was returned to Nigeria as part of an out-of-court settlement with the Abacha's family. In 2005, Swiss government returned $505 million. Also, the United Kingdom, Liechtenstein, Luxembourg and other entities returned an additional $700 million. Abacha's son, Abba Abacha was on 18 June 2010 convicted by a Geneva court and sentenced to a two-year suspended sentence and made to forfeit $400 million in ill-gotten wealth. What a people? What a family? Like father like son.
Sani descended on our beloved nation as someone who had come only to 'steal, kill and destroy' until the day of the Lord when on 8 June 1998, God heard the cries of His people and came to their rescue. God did what we least imagined. His ways are higher than ours. His thoughts are beyond our comprehension. He answers prayers! As the sayings go that 'pride goes before a fall' and that 'whom the gods would destroy, they first make mad.' So it came to pass on that day of the Lord, on that fateful day Sani looked at his Indian girls and boasted. "Chei! girls, if you cooperate with me, I'll give you anything you want. If you want houses here in Abuja, I'll tell Jerry to give you, in fact if you want mansion in Lagos, I'll call Buba to arrange houses in Ikoyi or VI. Wallahi, I will tell Gwarzo to arrange cash for you in dollars." After this, he looked through the window, he saw the beauty of Aso rock villa and said to himself "I have power to do anything. I have money in Switzerland, Luxembourg, Jersey, Liechtenstein, Belgium and the UK, I have houses everywhere and what else do I want. I am sure to be the president for another 8 years, all my enemies are scattered everywhere in exile and the ones here are in prisons even that Oladipo, by this time next week, I go send am go meet Saro Wiwa to teach others a tough lesson." Then he said to himself, "my soul enjoy your girls, take your ease; eat, drink, and be merry." After this, he heard a Voice called saying 'Sani! You fool! I made you president over my people even though you are among the least qualified. I saved you when Olusegun pencilled your name down for dismissal, yet you fail to honour me. When Ibrahim purged all the senior officers after June 12, I preserved you yet you do not regard Me. Instead of leading my people to the promised land, you oppress them, you chastise them, you steal their oil money, treat their elders with disdain and kill their advocates. You incarcerate my people and boast of your might. Today your soul will be required of you" After this he ate the 'spiced apple' and his soul was taken away from him to the pleasure of his countrymen. "So is he who lays up treasure for himself, and is not rich toward God." So what shall it profit a man who gains the whole world…….
What a relieve for a nation! The demise of the despised ruler from Kano was celebrated with an ecstasy such that is only seen with winning a FIFA world cup. Kano is also the hometown of late General Murtala Mohammed, another military dictator whom the nation never stopped mourning after his assassination on 3 February 1976. What a contrast! 12 years on, nothing seems to have changed. People in positions of authority still steal left, right and centre forgetting that we all came here with nothing and will certainly leave with nothing. Must they die before it dawns on them? If Abacha couldn't take anything with him, no one can. Why must people choose to be the richest men and women in the grave at the expense of their souls. Politicians and civil servants seem not to fathom the difference between private and public funds. It's scandal here and there involving huge sums of money without any regards for law and integrity. Parliamentarians award themselves exaggerated remunerations that beat any logical reasons for doing very close to nothing. Company executives doctor financial reports thereby eroding the values of shareholders' investments and bank directors, just like Abacha, unrestrictedly dip their hands in the vaults of the banks to buy houses all across the globe with the same passion a philatelic collectors collect stamps. Same story everywhere with most people in authority. Ecclesiastes 9:10 says "whatever your hand finds to do, do it with your might; for there is no work or device or knowledge or wisdom in the grave where you are going." This includes managing the resources at one's disposal. For everyone shall give accounts of his/her stewardship. Also, Hebrews 9:27 says 'And as it is appointed for men to die once, but after this the judgment.' Death is an inevitable end that we must factor into everything we do. Another hallmark of Abacha's era was power intoxication. Now that we are in a democratic dispensation, it should have been impossible to overtly misuse power yet it is still a common thing. People in authority still use power to forcefully influence and oppress others without any regard for the rule of law. Impunity is the order of the day. There is a need to remember always that power is temporary. Major Hamza Al Mustapha, the detained Chief Security Officer (CSO) to late Head of State was an all-powerful aid who would never economise his authority. Where is he today? Who could have predicted that he would be help up in the prison for over a decade for his offences under Abacha. The trial is still ongoing but he has spent over 11 years in incarceration. This is no triviality! A good leader leaves behind a good structure for the future generation and that was exactly what Abacha couldn't do. Instead, he wanted and he actually left behind stolen billions for his children and children's children. Naturally, someday, stolen funds will one way or the other disappear and in his case, it has brought disrepute to his family and turned one of his children to an international convict. Tony Blair and Bill Clinton would never be bothered if they did not leave so much money for their children and their children's children because they knew they had helped build structures that would ensure generations after them live in sane and prosperous nations with abounding opportunities. A special lesson President Goodluck Jonathan needs to learn is to beware of political jobbers who like to surround anyone in power. The shamelessly self-seeking opportunists; the same people who were opposed to his ascendancy to become the acting president just a few months ago are now all over the place blowing vuvuzela that only Jonathan can do it in 2011. Wherever the wind of power blows, they are there. Little wonder they told Abacha that he alone could rule Nigeria; their parties even adopted him as their torchbearer. Jonathan should listen to his heart. The final lesson for all is that on the day of the Lord, no mansion in any avenue or hilltop or any other place on earth can save, no amount of money anywhere can do either. " Vanity upon vanity, all is vanity." Abacha came he saw but he failed to conquer. He made enough mistakes for everyone to learn from. Anyone who fails to do so must be ignoring the path of wisdom.
Disclaimer:

"The views/contents expressed in this article are the sole responsibility of the author(s) and do not necessarily reflect those of The Nigerian Voice. The Nigerian Voice will not be responsible or liable for any inaccurate or incorrect statements contained in this article."
Articles by thewillnigeria.com