Ebonyi South: Sen Nnachi Challenges Umahi To Publish Zoning Agreement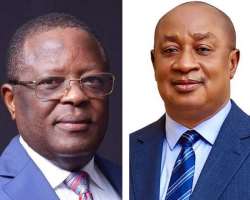 The senator representing Ebonyi South Senatorial District in the National Assembly, Abuja, Senator Michael Ama Nnachi has challenged the outgoing governor of Ebonyi State, Engr. David Umahi, to "publish the the so-called written zoning agreement wherein the 2023 Ebonyi South senatorial seat was zoned to Ohaozara and particularly to him (Umahi) or stop telling lies and come to test his popularity at the polls. Agreements do not happen in dreams. It is wrong for anyone to expect to win Ebonyi southerners' votes through lies". Nnachi stated these in a telephone interview denying the plaintive claims of Governor Umahi that stakeholders of Ebonyi South including Sen. Nnachi had signed a written zoning agreement ceding the plum job in 2023 to him.. Umahi made the claim in a live broadcast on Ebonyi State radio monitored in Abakaliki on Wednesday, February 22, in what is largely seen as apparent demonstration of panic and veiled crave for Nnachi to step down from the race. According to Umahi, "There was an agreement that was reached with Senator Michael Ama Nnachi when the Traditional Rulers of the Afikpo South went to Ohaozara and they reached an agreement, in writing, that after Senator Nnachi, it will be the turn of Ohaozara. They even went further to say that the serving Governor in the person of me, should take the position.
"It is important to say that the unit of Afikpo South/Afikpo North is just finishing from the Senate and it's the turn of Ohaozara. So, it will be very dangerous for communities not to take the issue of zoning into consideration. It will be very dangerous for people to begin to vie for what is not due for them, because if we allow such, it means that every position will be open for contest which causes greater tension and animosity.
"So, I plead with those who are struggling for positions in the South to respect the zoning, irrespective of the political parties we belong. It is all for the interest of Ebonyi people and for peace to reign."
Coming a few days to the presidential and national assembly elections in Ebonyi State, political pundits see Umahi's lugubrious claims as a sign of fear of his imminent defeat by the incumbent senator whose re-election victory seemed already cast in iron. The incumbent senator is the candidate of Peoples Democratic Party, PDP; while the outgoing governor of Ebonyi State, Engr. David Umahi, is the All Progressives Congress, APC, candidate for Ebonyi South senatorial district election. Umahi whose chances in the election have been on an irredeemable nosedive has been exhibiting palpable panic and, in his desperation, Umahi has raised his voice in this petulant broadcast against the interest of incumbent Senator Nnachi whom he seems to be afraid to meet in the polls. The truth is that with the backing of political kingmakers and heavyweights like former Senate President, Anyim Pius Anyim, who also served as Secretary to the Government of the Federation under President Goodluck Jonathan; the Southeast PDP National Vice-chairman, Chief Ali Odefa; the charismatic member representing Afikpo South/Afikpo North federal constituency in the National Assembly, Hon. Iduma Igariwey; the member representing Ohanivo federal constituency in the National Assembly, Hon. Livinus Makwe; Ebonyi State PDP governorship candidate who has metamorphosed into a political movement, Dr. Ifeanyi Chukwuma Odii; among others, Umahi's fears about Nnachi seem firmly founded. In fact, analysts say that Umahi has become a political orphan in Ebonyi South senatorial district. Political observers have opined that Umahi's political relevance has been drastically diminished by his numerous miscalculated political adventures, iron grip on the rights of ordinary Ebonyi masses and general policy summersaults. However, in the event of losing the election to Nnach, Engr. Umahi will return to his private investments which have been tremendously fertilized by his eight-year reign as governor of Ebonyi State.