Enugu East Labour Party Senatorial Candidate, Barr Oyibo Chukwu Assassinated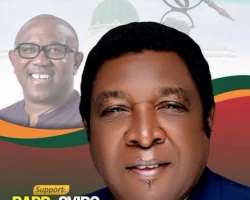 Labour Party Senatorial candidate in Enugu East, Barr Oyibo Chukwu has been assasinated and his vehicle burnt with the occupants.
His major contestants in the race that is barely forty eight hours are Chimaroke Nnamani (PDP) and Ada Ogbu (APC). The LP Senatorial candidate Barrister Chukwu was reportedly traveling in his vehicle when the attackers struck, setting the vehicle ablaze and killing several of his supporters in the process. The incident is believed to have been carried out by suspected political thuggery.
Chukwu's death has sent shockwaves throughout the Nigerian political landscape, with many expressing their outrage and calling for an end to the violence that has marred the election season. The LP has issued a statement condemning the attack and calling for the authorities to investigate and bring the perpetrators to justice.