Old Naira: Fashola Tackles Keyamo, Says President Buhari Didn't Disobey Supreme Court Order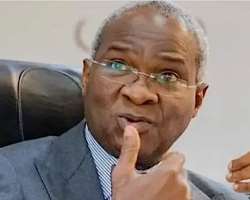 The Minister of Works and Housing, Babatunde Fashola (SAN), has said President Muhammadu Buhari's directive to the Central Bank of Nigeria (CBN) on banning N500 and N1,000 notes was not a direct affront on the Supreme Court.
Mr Fashola stated this while reacting to a statement made by the Chief Spokesman of the All Progressives Congress Presidential Campaign Council (PCC), Festus Keyamo.
Recall that Keyamo had said President Buhari disobeyed the ruling of the apex court with his pronouncement on Thursday where he directed that the old N200 be recirculated until April 10, 2023, while the old N500 and N1,000 cease to be legal tender.
The Minister of State, Labour, and Employment added that the president has good intentions for the naira redesign policy, but was wrongly advised to give the directive in a nationwide broadcast.
Meanwhile, during an appearance on Television Continental on Sunday, Fashola said the president's directive on the naira redesign policy was not a direct affront to the Supreme Court.
The former Lagos State governor stated that the president only took the step to help reduce the pains and sufferings of Nigerians who were becoming the unintended victims of the policy.
Fashola stated that although the naira swap policy needed to be reviewed, the president will not allow Nigerians to suffer as a result of the CBN policy.
He said: "Let me say that in a democracy where there is a right to speak freely, there's bound to be a divergence of views, as you have had. But I think that the principle about respecting and awaiting the outcome of a court decision sometimes has been stretched, if I may use that word.
"There is also a lot of jurisprudence and scholarship about the boundaries of contempt in actions done and in things said. If I shut the door on your finger, and you went to court to say that the court should direct me to remove or open the door, do I say let's wait for the outcome of the court decision when you are in pain, and people are in pain?
"The question to ask is if I attempt to open that door, would you, the person in pain, say I was acting in contempt or would you gladly have me open the door and then go back to the court and say the matter we have resolved it?
"And that is another angle to look at this thing because I think that whatever interventions the president sought to make were interventions in response to the very palpable pain and I think he said that much in his speech about the unintended consequences of the policy."
The minister argued that what happened was a mop-up of Nigeria's currency and not a swap, arguing that the central bank may not have expected the outcome.
He added: "It seems to me that the Central Bank does not intend or contemplate a mop-up policy, it actually contemplates in my view, a swap of notes. The CBN may have overreached itself."