Odii Will Set Ebonyi On Trajectories Of Excellence - Chief Nwankwo.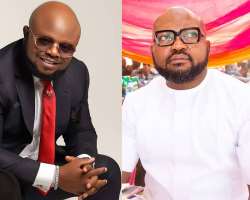 An Ebonyi State - born estate developer and realtor, Chief Chukwudi Louis Nwankwo, has said that Ebonyi State is lucky that the Peoples Democratic Party governorship candidate in Ebonyi State, Ifeanyi Chukwuma Odii, has offered to serve them in the capacity of Governor come 2023. Speaking in an exclusive interview with The Nigerian Voice, Nwankwo who is Chief Executive Officer of CLN Realtors Nig Ltd, said that Ifeanyi Odii who has proved his mettles as an astute manager of men and resources even in international business circles is well positioned to change the narratives of governance for better in Ebonyi State.
Asked about his assessment of the present All Progressives Congress administration in Ebonyi State and whether a change was necessary in Ebonyi State, the youthful estate developer stated that: "The present administration built roads and overhead bridges in Abakaliki Capital Territory but failed to open up the rural areas. Most importantly, over ninety percent of Ebonyi people are in pains and poverty. Ebonyi State is hostile to people and businesses. These are painful because they have compounded the misery of Ebonyi people. In summary, the All Progressives Congress has not impactful delivered good governance to the people of Ebonyi State and so, they have to be changed."
Giving an insight into the PDP governorship candidate's manifesto which the CLN Realtors Nig Ltd boss praised for having a feasible implementation strategy, he said that, "with a solid background in human capital development as well as in both local and international businesses which guided him in the design of his manifesto, Odii on assumption of office as Governor of Ebonyi State by the grace of God would give opportunities to Ebonyi youths to develop themselves and upscale their skills to compete with their mates across the globe; create a conducive business environment that will grow local entrepreneurs and attract foreign direct investments to gainfully exploit the abundant natural resources which God has blessed Ebonyi State with."
In his admonition to his beloved Ebonyi people in whom he has continued to empower through his foundation, Nwankwo had this to say: "Ebonyi people are strong and hardworking people who only need little opportunities to excel. Anyichuks is a star in business and other circles. His charismatic way of doing things with bear on his administration and attract the opportunities that Ebonyi people need to develop. I charge Ebonyi people to support and vote for PDP and Ifeanyi Chukwuma Odii because by doing that, they would be giving the needed impetus for opportunities that would set Ebonyi State and her people on trajectories of greatness and excellence".
Youthful Chukwudi Louis Nwankwo (a.k.a. Over All) is an international business man, a charity worker, crowd-puller, leader of thought and a positive influence in the whole of Ishielu Local Government Area of Ebonyi State.