Panic In Ebonyi Apc As Ikwo Noyo Stand Still For Odii, Pdp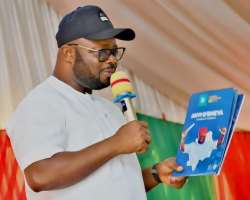 Dr. Ifeanyi Chukwuma Odii. (PDP governorship candidate for Ebonyi State)
There have been disquiet and mutual suspicion in Ebonyi State chapter of All Progressives Congress since Saturday, 11th February, 2023 when the Peoples Democratic Party governorship rally took place in Ikwo Noyo. Sources which pleaded anonymity say that the total mobilisation of Ikwo Noyo people to the PDP rally has cast a thick shadow of doubts on the sincerity and commitment of the number two citizen of the state and other Ebonyi State government officials from Ikwo Noyo to the 2023 general elections project of the APC in Ebonyi State. Their principal is said to have been angry and worried that with the organic crowd of Ikwo people that turned up to show solidarity for Dr. Ifeanyi Chukwuma Odii and his PDP, the implication is that APC has nobody in the entire Ikwo local government area. Overwhelmed with anger, the outgoing governor threatened to take drastic actions if government officials from the area fail to give him results for the massive funds he gave them for the servicing and retention of the loyalty of Ikwo populace. There was also the insinuation that because the number two citizen did not get the senatorial ticket of his party, he is bent on crashing the APC boat. It is believed that the promise of more empowerment by the governor at the Government House Chapel on Sunday, February 12, was a direct reaction to the rejection of the APC by Ikwo Noyo people.
For the records, Ikwo local government area is significant in the 2023 general elections for three major reasons. First, Ikwo is the most populous local government area with 20 electoral wards and the highest number of registered voters in Ebonyi State. Second, is that given the fact that Ikwo local government area, having taken their shots in both Ebonyi governorship and deputy governorship seats respectively for eight years, is not in the governoship race, their support for any governorship project has great electoral value. The third and last reason is that Ikwo local government area electorate is one of the most politically sensitized in Ebonyi State. The combination of these factors qualifies Ikwo local government area as the beautiful bride whose support may sway victory to any political party she supports. Hence, political rallies in Ikwo local government area of Ebonyi State at this point are more like political weather reports on the results of the 2023 general elections.
The Ikwo PDP rally held at the strategic Ndiechi playground, Echara in Ikwo local government area. Echara Nkpoke which houses Ikwo local government council secretariat, Ebonyi State College of Ikwo and the Ikwo stadium is by all standards the major urban centre of Ikwo local government area. The turnout of Ikwo Nnoyo people was so intimidating that the spacious Echara Nkpoke playground overflowed with human beings. According to Ikwo Noyo spokespersons which included a retired permanent secretary in Ebonyi State and secretary of PDP Elders Council, Chief Oliver Eze, and the former chief whip of Ebonyi State House of Assembly, Barr Chike Ogiji, Ikwo Noyo people are tired of conflicts, wars, executive insincerity, exclusion, harassment in the capital city, hardship and social disorders. They want peace, progress and development. "Ikwo Noyo people are looking for those things and we are confident that Dr. Ifeanyi Chukwuma Odii will give us those things and more when he becomes governor by God's grace", Barr Ogiji said. Characteristic of an archetypal elder, Chief Eze admonished the people of Ikwo Noyo and Ebonyi State to: "check the things that are going on in Ebonyi State. If you are enjoying it and want it to continue, vote for APC; but if you want a change to peace, harmony, inclusion, respect for human rights, compassion, sincerity and good governance, join Ikwo Noyo people and vote for Dr. Ifeanyi Chukwuma Odii and all the candidates of PDP."
For the elated PDP gubernatorial candidate in the 2023 general elections, Dr. Ifeanyi Chukwuma Odii, whose humility and radical investments in humanity even in Ikwo local government area has been his his greatest selling point, his presence in Ikwo Noyo land was a homecoming. Odii promised to: "Empower Ebonyi people, scale up the skills of Ebonyi youths and turn them into wealth-creators and expose Ebonyi people to national and international opportunities through modern farming, industrial revolution and creation of a secure and friendly business environment which will attract both local and foreign direct investments." Odii concluded with a promise to run an inclusive administration, restore peace to every community in Ebonyi State through genuine reconciliation and rural development.