Ifeanyi Chukwuma Odii: Waging Peace Instead of War.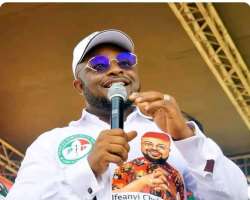 Ebonyi State was created in 1996 with the slogan, "Salt of the Nation". From the onset, the state which housed a lot of solid mineral deposits in her bowels held a lot of promises. With the democratisation of the state in 1999, the freedom which quest fired the founding fathers of Ebonyi State all through the thirty-nine years the struggle for the creation for Ebonyi State lasted became a palpable reality. The state was growing, her people were developing, state was relatively peaceful and her people were happy. With all these and a below-average crime rate, the sobriquet of "Salt of the Nation" looked good on Ebonyi State.
By 2007 when one of the founding fathers of Ebonyi State, Chief Martin Elechi, became the governor of Ebonyi State, people hoped that the golden moment of the state had come. This was not so because some cunny mercantile persons had crept into Elechi's administration. Before 2008, these fifth columnists built thick walls around Elechi and cut him off from well-meaning Ebonyi statesmen who could call him to order. With the old man in their pigeonhole, the unpatriotic elements began to sow seeds of discord among Ebonyi people. Soon, inexplicable conflicts, the most fratricidal of which was the Ezillo and Ezza Ezillo war, engulfed the state. By 2015, Engr. David Umahi used restoration of peace, respect for the dignity of Ebonyi people and enthronment of rule of law as mantras of his governorship campaigns. With the total disconnection of the Elechi administration, Elechi's unexplained aversion for Umahi's governorship project and Elechi's indiscretion which he demonstrated in his unilateral nomination of a successor, Ebonyi people supported Umahi to Elechi's chagrin. Umahi succeeded Elechi as governor of Ebonyi State.
Between 2015 and now, Governor Umahi ran an administration which is in all ramifications strange to both political science and public administration. Umahi's administration, pundits say, is democratic in form but military in substance. Besides the fact that in Ebonyi State development has been arbitrarily seen as multiplication of concrete slabs, pillars, columns and beams, Ebonyi State has been thoroughly divided and fragmented. While abandoning the Ezillo and Ezza Ezillo peace programme on which crest he rode to power, the administration began to play politics with peace and security. Hence new conflicts and wars started while dead conflicts and wars were rekindled. Currently, wars are going in Effium Community between Effium indigenes of Ezza extraction and Effium indigenes of korri extraction; Ngbo and Agila; Izzi and Ikwo; Ishinkwo and Abomege; Amasiri and Edda etc. Added to these were perversion and full militarisation of the democratic process through mandate-roundtripping, lawlessness, total clamp down on opposition parties, introduction of state-sponsored kidnappings, killings, assaults occasioning grevious harm and more in other to confer undue advantages on candidates of the toxic All Progressives Congress in the 2023 general elections.
As things stand now, Ebonyi State has lost her salt, is divided, in dire straits and needs peace more than anything. This explains the tropistic support which the endearing governorship project of the PDP governorship candidate, Ifeanyi Chukwuma Odii, commands across Ebonyi State. Odii who has won most of the violence and wars levied against him and his project by the establishment in Ebonyi State with peace has demonstrated that peace is an effective instrument of success. Anyichuks as Odii is fondly called by his army of supporters is incontrovertibly become Ebonyi version of St. Francis of Assisi. Like St. Francis, Odii wages peace where others wage wars; charges his supporters on tolerance where others arm their supporters for violence; gives hope to Ebonyi people who have been rendered despondent and poor through bad governance; is reconciling and harmonizing Ebonyians who have become discordant through a divide-and-rule government; and is illuminating and developing communities and people abandoned to darkness by a regime of concretes. The mandate that detribalised Odii seeks is the mandate to comfort and do good to Ebonyians whose electoral investments since 2015 have yielded maggots and vampires. In Odii's governorship project, Ebonyi people see hope and help, hence the gradual collapse of the structures of other political parties' for Odii and the unanimous crave of Ebonyi people for the administration of Ifeanyi Odii. May God grant the cravings of Ebonyi people.