HELPLESS TEENAGER IMPREGNATED BY BROTHER THROWS BABY INTO PIT TOILET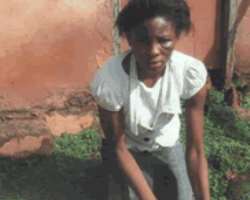 The Baby
For Miss Ozioma Ezeude who hails from Umudiala Village in Ezinifite, Aguata Local Government Area of Anambra State, the reality of falling in love with a blood relation, an incest that is abhorred in her community, has dawned on her. Miss Ozioma, who was impregnated by a relation, who she did not give his name, said she had carried her baby girl named Jennifer for nine months without getting any help from the man responsible for the pregnancy or her parents.
The relation who impregnated her, as stated in the Bible is 'worse than an infidel' as he was not able to take care of her and her baby at birth.
The teenager's parents, Mr and Mrs Ezeude, did not help matters either as, according to Ozioma, they abandoned her to her fate shortly after she became pregnant and refused to render even the least assistance that someone could give to a stranger.
Coming face to face with Ozioma, one is confronted with her innocent face and the unending tears rolling down her cheek. Her heart is also filled with regrets, as she says she was forced by circumstances to do what she did.
She told Daily Sun that the decision to throw her six-month-old baby into a toilet was the most difficult decision she had taken in life, but had to do it because that was the only alternative left for her at that time.
Hear her: 'I don't know what to say, but what happened was that I was impregnated by a relation of mine who unfortunately is jobless and has no money to even take care of himself not to talk more of taking care of me or my baby.
'My parents live in Delta State and as soon as I became pregnant, they abandoned me to my fate and would not want to have anything to do with me. I managed through the nine months of pregnancy and delivered the child until now when it became unbearable for me.
'I was totally abandoned by almost everybody, no one to advise me, no one to help me in feeding, no one to help me in anything and I didn't know what to do till the idea of doing away with the baby came into my head.
'So, on that fateful day, I got that push, something inside me was pushing me to go and throw the baby into the pit toilet and I painfully did it, an action that is hurting me now and will continue to hurt me till the end of my life.
'I was arrested after the incident, I think some people saw me and reported to the police and they opened the pit and brought out the baby, but by then, she was already dead and that was how I was brought here.'
Ozioma who said she was neither raped nor forced into sexual relationship with her unnamed relation, however, asked for God's mercy upon her life.