AKINGBOLA, EX-INTERCONTINENTAL BANK CEO, RETURNS FROM SELF-EXILE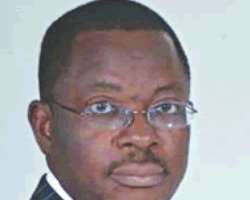 Akingbola
Former Vice-Chairman and Chief Executive Officer of Intercontinental Bank Plc, Dr. Erastus Akingbola, yesterday returned to the country after 12 months in self-exile following his sack by the Central Bank of Nigeria (CBN) in the wake of a banking reform last August.
A family source said he returned to the country to face charges preferred against him by the Economic and Financial Crimes Commission (EFCC ) over his alleged role while piloting the affairs of the bank.
Akingbola, who had been in the United Kingdom in the wake of the CBN banking reform last year, according to the source, arrived in Abuja Tuesday morning and was received by his lawyer, Chief Felix Fagbohungbe, (SAN), and close family members.
In a statement earlier this year, Dr. Akingbola's lawyer, Mr. Charles Nwajagu, had indicated that Akingbola was ready to come back to Nigeria as soon as the suit in London would have been given mention in court. He said the suit required his personal attention. The case was mentioned in a London court on July 14, 2010 where it was adjourned till December, 2010.
The source confirmed that Dr. Akingbola's voluntary return to the country was to defend himself of all allegations against him in court, stressing that his return shows that he was not afraid to face trial.
It further added that the ex -bank chief was consulting with his legal team and the outcome would determine his next steps.
The source added that Akingbola denied all allegations of wrong-doing or improper conduct and has challenged the legal validity of his removal from office by way of Judicial Review.
Commenting, EFCC's spokesman, Mr Femi Babafemi, admitted that the commission learnt of his return Tuesday morning, but that he was yet to report to its office.
Babafemi said: 'We are looking for him and we have set a manhunt for him.'
Akingbola was sacked by the CBN alongside four other former bank chiefs on August 14, 2009 alleged insider abuse and non-performing loans of about N747 billion.
Following the sack, Akingbola went into self-exile while his colleagues were detained on August 18.
The EFCC had boosted that his arrest was only a matter of time and in January 2010, the commission, armed with an order granted by Justice T. Abubakar of the Federal High Court, Lagos, sealed his Lagos and London mansions with several cars .The EFCC also ordered eight banks to freeze over N346.1 billion and £11 million, allowing him limited access to only N1.4 million per month.
After the freezing of his shares in 11 companies, Akingbola promptly informed a Federal High Court in Lagos through his lawyers that the seized assets were legitimately acquired by him, a bid he lost.
Among the 28-count charge preferred against him were that he gave out $10,000 travel allowance to non-executive directors of Intercontinental Bank, contrary to the CBN code of corporate governance.
The code limits remuneration to only sitting allowance for that cadre of directors. The EFCC was also said to have discovered ''discrepancies between the value of shares in the bank's customer file and the valuation records supplied to the CBN.''
Akingbola was also said to have listed loans advanced in 2007 against 2009 in a frantic bid to deceive the apex bank. Besides, a whopping N20 billion, of the N27 billion non-performing loan portfolio was said to have been advanced to the bank directors, while the bank was also said to have massively cooked its books to hoodwink regulators.
While the storm raged, four top officials of Intercontinental Bank were detained for allegedly transferring N12 billion to Akingbola's local and foreign accounts. Of the N12 billion, the suspects were said to have offset N10 billion loan owed the bank by Akingbola's company.
Only last month, the Federal Government made an extradition request to the British authorities. This followed a request by the EFCC which is pressing a case against Akingbola.