Ex - Minister Describes Lp Presidential Campaign Train As Movement, No Longer Political Process.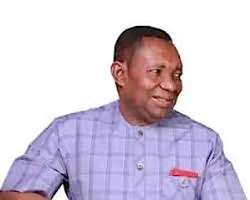 The former Minister of state for Health, Mr. Fidelis Nwankwo has described the Labour Party Presidential candidate's campaign train as a movement and no longer a political process, noting that it is only Obi that will fix the security, fuel and naira swap crises that is wrecking havoc in the country.
Nwankwo, who made this known while speaking with newsmen in Abakaliki capital of Ebonyi state, said the country is in total mess and needs a young man that has capacity and vision to transform the country.
The former chairman of Izzi LGA, who is aspiring to fly the flag of labour Party, LP, in Ebonyi state, stressed that Nigeria needs a good leader that will end the lingering challenges, especially insecurity in the country.
According to him: "Mr. Peter Obi is in a Presidential campaign tour to the states of the Federation. He toured the northern states and today is the turn of Ebonyi state. As you can see, Obi's candidature is a movement. It is more than a political process.
"All the electorates in Ebonyi were desirous to see him (Obi). They were waiting to hear from him, and to know the plans he (Obi) has for Nigeria and Ebonyi in particular.
"Peter Obi is coming because Nigeria is not at its best time, it needs good leadership. There are lots of problem facing the country, ranging from, food, fuel, Naria scarcities and insecurity.
Nwankwo said that he is prepared to fly the flag of labour Party, LP, in Ebonyi state, especially as the supreme Court decides on who becomes the authentic governorship candidate of LP next week.
According to him: "I have been aspiring to fly the flag of labour party, LP, in Ebonyi state but there have been hitches here and there, but I'm sure within few days to come, it will happen.
"I have prepared myself and I'm not an emergency candidate, I don't make preparation for power because nature has decided to prepare me by whatever means. And running with Peter Obi will be an honour because Nigerians want him, and I believe also that Ebonyians wants me likewise" he stated