SDP Gubernatorial Candidate, Magnus Abe Escapes Assassination In Rivers State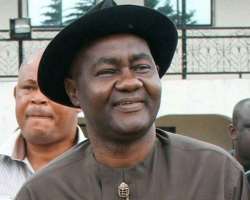 The governorship candidate of the Social Democratic Party (SDP) in Rivers State, Senator Magnus Abe, has reportedly escaped assassination attempt after gunmen attacked his campaign train at Akinima community in Ahoada-West local government area of the State.
A short video clip which emerged had shown how members of the campaign train were running helter-skelter scampering for safety when the gunmen struck.
It was gathered that Senator Abe and his team had earlier visited Ubeta and other communities in the area before heading to Akinima, when they came under heavy gun attack.
Confirming the attempt on his life, Abe said: "We went there and they went and used two vehicles to block the road so that we cannot get there.
"Nigeria is a democracy and all of us have the right to go to the people and share our ideas with them. If you have ruled the people for seven years, the people should be happy with you.
"If people are not happy with you it is because you are not doing well. Now, you are sending people's children to come and block other politicians from talking to the people."
.