Goodseed Daily Devotional 24th January 2023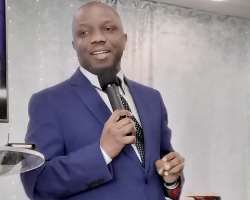 Apostle George Amadi (Lead Pastor: Goodnews Bible Church, London)
Topic: THE POWER AND THE GLORY OF GOD.
SCRIPTURE : And he said, I beseech thee, shew me thy glory.
Exodus 33:16
The Power of God is necessary to fulfil destiny. But the Glory of God achieves more results than the Power. It is one thing to see the Power of God, but it is another thing to see the Glory of God.
Now, what is the difference between the Power and the Glory of God?
You know, at a point, Moses had already seen so much of the Power of God – His rod had parted the Red Sea; all the first born in Egypt had died (apart from the first born of the children of Israel); he caused several plagues in Egypt; water came out of the rock by Power, yet he came to a point where he told God, "If I have found favour in your sight, I have known your Power, but please introduce me to Your Glory. Show me your Glory, let me see something about your Glory" (Exodus 33:18, paraphrased).
In the power realm, there is the energy of man that is working with the help of God; but in the glory realm, God is working and man is watching.
When the Glory of God came down during the dedication of the temple of Solomon, the priests were ushered out of the way. They could no longer stand by reason of the Glory (2 Chronicles 5:11-14 KJV). They were out of the way yet things were happening and they were not involved at all.
In the power realm, there was the need for Moses' rod, but in the glory realm, God was at work and people were watching.
Today, I decree that God will shift you from the Power realm to the Glory realm, in Jesus' Name.
Beloved, Make up your mind to shift to the Glory realm of life.
Surrender your effort and energy for God to take over.
PRAYER: Lord, I ask that You manifest Your Glory in my life. Let Your Glory suspend all my human energy and take over my life, in Jesus' Name.
Goodseed Daily Devotional is the publication of Apostle George Amadi- Senior Pastor Goodnews Bible Church London. If you are in the London area do worship with us at 2nd Floor Unit 4 Westmoreland House Scrubs Lane White City NW10 6RE