FG Sets Up Inter-Agency Committee On Port Concession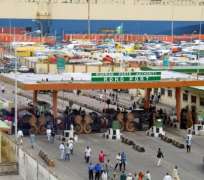 San Francisco, August 02, (THEWILL) - An Inter-Agency Committee comprising the Bureau of Public Enterprises (BPE), Nigerian Ports Authority (NPA) and Infrastructure Regulatory Concession Commission (ICRC) has been set up to address the challenges of ports concession, according to the acting Director General of the BPE, Ms. Bolanle Onagoruwa.
She made the disclosure at Onne ports when she led a BPE team on a post-privatization monitoring visit to terminal operators at Port Harcourt and Onne ports. She explained that the committee is the outcome of the meeting held in Lagos on July 21, 2010 by the three agencies to look into outstanding issues affecting the concessioned port terminals. The inaugural meeting of the committee was held on Thursday, July 29, 2010 in Abuja.
At the terminal of Port and Terminal Operators Ltd (PTOL), she told the management team led by its Chief Executive, Mrs. Lizzie Ovbude, that the visit was informed by the need to ensure that the vision of the ports reform is not lost.
"It makes us happy that you progress. The visit is to evaluate the degree of progress since the concession and listen to your successes and challenges and see how we can be of help," Onagurowa said.
PTOL and BUA Ports and Terminal Ltd told the BPE team of the serious security challenges at Port Harcourt Port. According to Mohammed Lile, the General Manager of BUA Ports & Terminal Ltd, "In terms of security, government has been doing a lot and we have been doing a lot. Yet, we have the security challenge. Hoodlums come into the port either through the sea or scale multiple high fences to disrupt our operations regularly."
Lile pointed out that morale and enthusiasm is low among members of the Mobile Police Force given that their colleague who shot a hoodlum at the premises of PTOL and the latter died has been dismissed from the Force and is being prosecuted for murder.
At Onne ports, Intels Nigeria Ltd informed the BPE of the investment of over $3 billion it has undertaken. In addition, the General Manager (Operations) of Intels, Sascha Kuehl, spoke of the company's host community development projects. "The relationship between Intels and host communities has been cordial and no major disruptions of operations had been experienced over the years. This was achieved through mutual understanding and Intels commitment to partnering with the communities for their developmental needs and growth," said Kuehl.