Exit Of Alhaja Sherifat Lawal: What Did We Learn?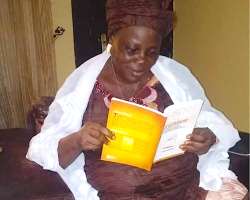 I wonder if we can create a disconnect between Dr Ganiu Bangbose and his mother. In fact, the academic wizardry and early sterling educational feat of Dr GAB both had their roots in the special motherhood of Alhaja Lawal, a metaphorical book of varied parenting virtues.
Everything, from my perspective, began when Alhaja Lawal cheerfully and encouragingly approved the choice of Dr GAB - Ganiu Abisoye Bangbose - to studying education or to becoming a teacher, at a time , other mothers were hellbent and adamant on their children taking to " prestigious" courses such as law, medicine, engineering among others. As an aside, I do know some of her pals would have frustratingly consistently pressured her against the choice of a young lad looking forward to becoming a " teacher" - a condescending thing to do, at least, in our part of the world, considering how relatively poorly remunerated the profession was, and still is - this is no jibe - just calling a spade a spade. Alhaja Sherifat Lawal, unlike the others, believed money or fame shouldn't be the yardstick to push aside the burning passion of a child or to set aside the God - given gift of a child. She fully embraced that which the child was called to do and offered exraordinary support towards the reality of the vision. Thankfully, both mother and son clicked well on this divinely crafted path and ran with the vision.
Naturally and expectedly, tough days and dark moments gently visited , but "mother like none" stood firm at the decision and never thought of a career switch even when it was undoubtedly obvious that teaching might not be lucrative for her precious son. " No wavering" I guess I heard this mother-goddess breeze into the heart of Dr GAB. Pleasingly, they forged on; waxing stronger and becoming more invincible. Today, every award or accolade credited to Dr GAB, is equally to Alhaja Sherifat Lawal, having emphasized that the bond between the duo is a prism. Death seems to have come between them - assuredly just for now - GAB and her mother are indivisible, unbreakable, and undisconnectable. I grew up believing the saying " like father like son", but Dr Ganiu Abisoye Bangbose forced a review of that, and re - engineered it: like mother, like son.
To my " Success Point" colleague, and teacher - friend; your pen is weak, at the moment, not for lack of fluent thoughts, but the weariness of the cruel reality of the transit of your mother. You know the story better (bliss and blues), and can tell it more exceptionally amazing. When the time is right, I mean really right, permit your golden pen to tell it to the world that Alhaja Sherifat Lawal is the missing mother in the erring child.
Adieu!
Samuel Ogunnaike, Lagos.