Ebubeagu, Why?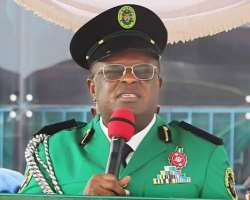 This video was recorded in Abakaliki yesterday. I have issues with this method of operation. Why the assault and battery since the victim is not putting up physical resistance? A kidnap victim told me that even kidnappers do not get this hostile to non-resistant victims.
Stanley Okoro Emegha who doubles as the Ebonyi State APC chairman and Ebonyi State Government Security Consultant in charge of Ebubeagu owes the people of Ebonyi State some explanations about this unprecedented brutality of his team against innocent Ebonyi people.
I still insist that combining partisan position with security roles such as we see in EbubeAgu is odd and ominous. Those who want to function directly or indirectly in any security set-up MUST meet the basic standard of neutrality. This is the major problem of EbubeAgu in Ebonyi State.