2011 RACE: WE'RE WAITING FOR JONATHAN — GOV SHEMA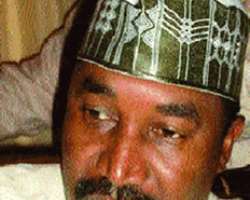 Governor Shema
As mixed reactions trail the Peoples Democratic Party's (PDP) zoning brouhaha, Katsina State governor, Dr. Shehu Shema, has assured that the party has the capacity to settle the matter and other issues amicably. According to him, 'one way or the other, the party will come to terms with what is required by Nigerians.'
In an exclusive interview with Saturday Sun in Katsina, Governor Shema also defended the growing influence of the Governors' Forum in recent times, insisting that state chief executives have the responsibility to intervene at critical moments.
He said: 'When governors must talk, they talk in the interest of the nation. When governors meet, they discuss issues that affect their states, the nation and its people.
He also spoke on Jonathan's candidature in 2011.
Sir, you've been in power for three years. How is the journey so far?
Well, it has been a mixture of wonderful experiences because the management of human affairs and public resources will certainly bring to you a world of experience, in terms of the needs of the people and the services you ought to render as a leader. Frankly speaking, it exposes you, in a number of ways, to real human demands and it gives you the opportunity to make contributions to the advancement of the people you lead. Like I keep saying, politics should be seen as a vehicle for service to humanity. Once you view politics like that and you appreciate the responsibility God has placed on your shoulders by being a leader at whatever level, you strive to work hard and you strive to touch people's lives. You also strive to use transparency and accountability as an impetus and a tool for the development of people.
That is why, since my inauguration in Katsina State, as a governor, in 2007, the past three years have really being a blessing, I believe, to the great people of Katsina State, who supported me and assisted me to be where I am today. By the grace of God they have continued to give me co-operation and understanding to deliver dividends of democracy.
What do you consider as your greatest achievements so far and what do you also consider as the challenges?
I will start with the challenges, because it is easier that way. I see the challenges in every day of governance. The challenge number one is that you have meagre resources for the development of the people and the state, against competing multifarious demands. Every sector you take in governance, anywhere in Nigeria, the amount of money that is being generated by the state, through internally generated revenue and revenue allocation from the federation account, is not enough to tackle one single sector's problems because the deterioration of infrastructure alone in Nigeria did not start in 1999. The rot in this country has affected and permeated a lot of things in governance and the way of life of Nigerians. One of the critical problems that every governor faces or every government institution or people in government faces, are those of corruption, the pressure from the society and indeed to politics.
But essentially in Katsina, especially in the last three years, what have we done? What have we achieved? What have we delivered to the people? I can tell you, we took three areas of critical importance. Number one is education and human capital development, because without education no people can advance.
The progress of humanity all together hinges on education and its ability to introduce or encourage the production of new ways of doing things. So, education is the number one priority of this administration. And one of the things that actually gladden my heart is that we may actually be the first state in this country, from 2007 to date, that started the process of implementing free education at all levels.
Primary education is absolutely free in Katsina State. Secondary education is free in Katsina State and tertiary institutions have scholarships. All our students in tertiary institutions across Nigeria enjoy scholarship and we equally spend some outside abroad to read Medicine, Pharmacy, Nursing, Arabic Calligraphy, Arabic Computing and the rest.
So, our focus has been education, education and education. Following closely is agriculture, because of the nature of our people, their way of living. They live off farm generally and cattle rearing and very few industries here and there and then commercial activities.
When we kicked off the free education scheme, we paid for examination fees for all our students that write SSCE, NECO and WAEC. I noticed that quite a number of other states in Northern Nigeria and the rest of Nigeria have adopted the same policy, but I believe that we are the first. A few months after I came into office, I implemented this policy and so far we have built over 135 new secondary schools with public resources.
We have been able to encourage local governments too to build more schools and they have built 34 girl-child primary schools. We may be the only state in Nigeria that has girl-child primary schools education programme, which has special department with a special adviser. That is 34 new primary schools exclusively for girls.
In addition to that, we completed the Umar Musa Yar'Adua University that I met under construction. We have completed it; we have equipped it; we have staffed it and the school is now running full degree programmes. We won the best performing state in primary education last year and we took second position this year at the national level.
If you look at the parameters of education, anywhere you touch, you will find that we have made our modest contributions. For example, the TSS (Teachers Service Scheme) salary that teachers have been agitating for all over the country, we are one of the first states, after that agreement was reached with the governors to implement it, implemented it in its totality last year. And we, without being asked, were able to work out modalities for paying for new improved salary, Federal Government pay packages to university teachers and tertiary institution teachers.
Also, we build a scholarship trust fund of about N1.5 billion. It was started initially by the late Mutewallen Katsina, Alhaji Umar Musa Yar'Adua, when he was a governor here. But we added about N750 million to the N750 million we met and we were using that as an investment fund to generate money and pay scholarships to students in tertiary institutions.
With the difficulties in the stock market and the financial sector last year, they couldn't pay; so we had to augment with about N400 million to pay all students in tertiary institutions. So, if you look at education alone, I can go on and on and on. We introduced students bus service scheme in the capital of Katsina and the headquarters of the other two senatorial districts in Funtua and Daura. And the bus service charges students only N10 per drop from whatever point they go to their schools. We introduced this system to assist the students instead of running around on okada, especially the female ones. They have comfortable air-conditioned vehicles that can take them to and from school.
Still on education, we built an education resource centre; we increased the number of mathematics improvement project centres and improved them. We built an office and donated it to JAMB. JAMB is very happy because we are one of the few states that have built an office for the agency. We have improved all the facilities we have in our tertiary institution.
In Isa Kaita College of Education, we built additional hostels and we supplied additional equipment. In the polytechnic, we have new courses accredited; we built additional blocks of facilities and then we provided equipment. At Yusuf Bala College of Legal Studies Daura; we built additional hostels and provided equipment. We improved the Katsina Central Library, providing Internet facility there and e-library to enhance learning. Indeed, the list of our achievements in education is pretty long, so, let me leave education brief and go to agriculture.
What have you done in the area of agriculture?
On agriculture, being our second most important programme, we have been concentrating on how we can diversify from rain dependent agriculture to irrigation. Last year alone, about 11,000 hectares of land had been cultivated through irrigation scheme. Therefore, Katsina State has been effectively engaged in farming from January to December. Right after farmers remove their crops, we launch into dry season farming and we don't stop until the next raining season. This is extremely important because this is the only thing that can put money differently in the pockets of the farmers because he doesn't have to go and beg anybody for anything. He just goes to the farm, till the land with the necessary support of the state government. We have Jibia improved this irrigation scheme. The dam was built about 25 or 27 years ago, but they have never cultivated more than 100 hectares. However, in last year's dry season farming, which ended in this March, over 2,000 hectares was cultivated in that farm. In the previous year, we cultivated over 1, 400 hectares of land by the dam alone. Other irrigation sites have been developed and enhanced. And that has equally made huge yields for them; some of them even say it is better than rain fed farming.
There was shortage of food in the country because of shortage of rain but we used irrigation and clearly the farmers were able to cultivate rice, maize, beans, guinea corn and wheat. So, the impact of the shortage of rain was minimized and our farmers were very happy. And I am glad I have been able to make some contributions in that area.
We equally did some livestock development programmes. We bought special breed of animals: Goats from South Africa, cows and freesia from Australia and Europe and we are cross breeding as well as trying to encourage artificial insemination. At the same time we did the vaccination of animals in the state: cattle, ruminants and sheep. And we even vaccinated dogs against rabbies and other forms of diseases. We have been working very hard in the area of tree planting and arresting desertification that is affecting our environment. So far, we have planted 4.5 million seedlings around the state. And most of these things have come up and we are still working on doing more. At least, we engage the rural communities; we engage the traditional institution; we engage the schools; we engage the women, local governments and all groups so that we now enhanced our environment through the instrumentality of planting as more trees as we can.
In agriculture, the issue of fertilizer is very critical to the farmers, but we have two approaches to it. We do the general buying that everybody does from foreign suppliers through local contractors and give to the farmers. But since the inception of this administration, fertilizer cost has been going up at the international market due to the fluctuations in the prices of oil. Despite whatever amount we buy the fertilizer, about N5, 000 or thereabout, we have consistently done that since I came into office sold the fertilizer to farmers at not above N1, 500.
So, we gave discount to farmers in a year of well over one billion naira to be able to get this price and on time. Even this year, we just finished taking stock of fertilizer and we would soon flag off sales and distribution. Apart from fertilizer, there is the issue of chemicals for use on the farm as insecticides and the cost of feeds for animals, because there was shortage of feeds for animals across the country. Through our efforts, we were able to buy some and subsidize the cost and give it to people who have cattle all over the state. I said there were two approaches to sourcing of fertilizer for farmers in the state. Apart from the direct purchase that we have making, I decided that the farmers need to have the source of the fertilizer locally so that we can beat the incidences of running around to get fertilizer abroad.
So, we picked four local governments and we set up four fertilizer blending plants. Each is owned by the local community. We brought in a group of youth, about 25 of them, and trained them how to produce fertilizer locally. They buy all the chemicals locally. They mix them and produce the same brands as we import: NPK (15, 15, 15) that we buy internationally. The price is much cheaper because they are produced locally and produced based on soil test done in Katsina State so that the fertilizer produced does not harm our soil. Therefore, it is fresh and it gives you a better yield. So, we have four of such plants existing in Bakori, Safana, Batsari and Mai'adua.
Last year, government placed an order of well over N100 million for their fertilizer. With this, you can see a young man who, before now, was used to going around for N1,500, suddenly has an order of about N25 million to do something. That is really fantastic. The fertilizer they produce is highly accepted by our farmers. They are very comfortable with it.
I will touch on infrastructure briefly. So far, I think we have built about 32 roads in the state in the last three years. We were able to construct some local government roads, upgrade local government headquarters into semi-urban centres, and we were able to dualize the roads like you see in Katsina here. We have eight candid locations for them: Dutsinma, Ingawa, Mani, Malumfashi, Daura, Katsina and of course, Funtua. In Funtua, we are building road round it but we have not started the dualisation its roads but all these other places have received dualisation of roads. We have built so many new roads in Katsina and tried to fix the old ones. We also built in Katsina town 752 houses that we are selling to civil servants. A two-bed bungalow goes for about N2 million plus, while a three bedroom goes for about N3 million plus. And we are selling at 35 per cent lower than the cost we built the houses.
We are not charging for the land or services and we are selling to civil servant at a very subsidized rate. A civil servant pays only five per cent of the total cost and takes over the house and pays the balance in 15 years. We built these houses and all that I have told you with our funds, the funds belonging to the state public purse, not borrowed.
Till date, the Katsina State has not borrowed a kobo from anybody for all of our projects and we don't owe any contractor, our staff, pension or gratuity. We do not owe anybody. As our certificates come, we pay as at when due. If anybody tells you that he has a job with Katsina State and he has not been paid, he has not complied with due process. That is all. Once he does that his money gets paid to him.
Local governments also were able to build 30 of such houses each. I think they have built about 1,040 houses. So, we have almost 1, 800 houses built across the state now since the inception of this administration.
Apart from houses, we developed the Katsina Motel. We improved it from what it used to be. It is now able to accommodate modestly guests from different part of the world. We also finished up the Katsina International Airport and the Turai Umar Yar'Adua Hospital project that was under construction.
We are currently building a 250-bed orthopaedic hospital. I think it is the first of its kind to have 250 bed spaces. Even the one in Kano, owned by the Federal Government, is just about 155 beds or thereabout. And we have a large stadium under construction. It is of the same size as that of Port Harcourt.
In the same vein, we have electrified over 80 towns since we came into office and we are doing more currently. We have built well over 90 boreholes. Under MDG, which is a 50-50 contribution between the state and Federal Government, we have done about similar number and we are still going. We bought some drilling rigs from Germany and we are going to put one per senatorial district to improve provision of water to communities around the state.
On education again, I think we have built about 19 high rise (storey) buildings for classrooms in 19 different locations and we built about 13 different structures that have contributed in all over 1000 blocks of classrooms.
We have supplied furniture and equipment to classrooms across the state.
On health, we have built a lot of new hospitals. We introduced mobile ambulance health services scheme going from village giving free medicine. We are giving free medicine to people who have malaria free of charge; we are treating pregnant mothers free of charge; we are treating kidney patients free of charge and we are giving accident victims free treatment in the first 48 hours.
And we are providing money for drug revolving funds that subsidises the cost of drugs at 25 per cent rate. We purchase (our drugs) directly from the manufacturers so that it will still be cheaper. Even if we still have to buy it from suppliers, we still knock out 25 per cent. And we have built four new maternity wards in Katsina, Dustsin-ma, Malumfashi and somewhere else.
I can go on and on and on.
Are you thinking of coming back in 2011?
I will consult with my family, my friends and will take a decision.
Katsina is considered a PDP state since 1999. What are the chances of PDP maintaining its dominance in the state?
PDP is the party of choice in Katsina because of two reasons. It is well loved and well respected party across Nigeria. It is truly a national party. It is a party with membership that cut across religious and tribal lines in Nigeria. It knows no boundary as far as geography or geopolitical location is concerned. It is true when we say we are the largest and the greatest party in Africa. If you look at the number of state governments that PDP controls in Nigeria, 28 out of 36, you must respect this party. And if you look at the number of local governments, out of 774 PDP controls well over 670 local governments. And if you look at the number of state Houses of Assembly, we control the majority of state assemblies in Nigeria. If you look at the National Assembly, we control it. And then God blessed us with Federal Government. You know, we are in charge of Federal Government. PDP is a party of choice not only in Katsina but also all over Nigeria.
Former President Olusegun Obasanjo seemed to have set an agenda for the current president by saying that the zoning formula does not exist anymore. What is your take on that?
The former president of blessed memory, the late Mutawallen Katsina, Alhaji Umar Yar'Adua, set up seven-point agenda for Nigeria. For people who know him very well, he was setting forth a programme that we can continue to implement. A lot of people do not seem to understand it. It is not about achieving these things instantaneously. It is about planning to achieve them over time. Nobody can fault the seven-point agenda. Nobody can tell you that he doesn't need security or he doesn't need food security or agriculture. All these things are required. But they are targets that can be achieved over time. And there is no time span, because governance is a continuous process. Now, Jonathan has become the president of Nigeria. He would do his best to achieve some or all of these. So, my belief is that it is a good thing that the late president has to his credit the seven-point agenda.
Talking about zoning, as far as I am concerned, all hands must be on deck to move Nigeria forward. All hands must be on deck to support this nation and for the people to progress. That is the most important thing. To me, the most critical thing is to make Nigeria work. If you dissipate energy on zoning or no zoning, PDP is such a party that will adjust itself. One way or the other, the party will come to terms with what is required by Nigerians.
The Governors' Forum is becoming too powerful. Why is it that way?
Let me tell you; it is not about being powerful; it's about being responsible. When this nation went into a spin, the governors felt they had a responsibility to save this country like any other Nigerians. And don't forget, each governor represents a part of the population of this country. I represent 6.5 million people. How can anyone expect that I will not have a voice in what happens in Nigeria? So, when governors must talk, they talk in the interest of this nation. When governors meet, they discuss issues that affect their states, the nation and its people. Nobody is saying that governors have monopoly of the right to do anything in this country but they have a responsibility to protect the honour and integrity of this nation and that is what we are doing.
Apart from naming structures after Yar'Adua, what are you doing to immortalize him?
You see, I am thinking along so many lines. I don't want to let the cat out of the bag at this stage, until I am sure which one will be more beneficial. There are so many options.
Could you give us just a hint?
No, I will not release my secret to you. What if somebody jumps at it and says he will do something like that?
On a final note, there seems to be some problems at the national level of PDP. What is going on right now?
What is the problem?
The politics of national chairman
PDP is always in politics and because it is the ruling party, people will talk about it but let me tell you PDP has a special way of settling its internal matters. It has gone through a lot. If you remember, the time I was there, as the Deputy National Chairman of the party, so much had happened. It was during the Audu Ogbeh-led executive. You remember they left for one reason or the other. That was how we came in. What is important is that the party can adjust itself to accommodate any resolvable conflict situation.
What is your advice to Nigerians at this point in time?
I will still repeat what I said earlier. Nigerians must put Nigeria first. Leaders must be able to put this country and its people ahead of any other personal interest. We must come together and work to advance the cause of the people of this country. We have no option. The right thing to do for this country to grow is all of us to work together. We have to drop all these tribal, religious, sectional and zonal issues and unite this country. Let it be united. Nigerians are hugely talented people. And they can make this country great once we have the right number of us willing to do the right thing. Once the leadership is willing to set the ball rolling, to lead by example and to take the right steps to ensure that Nigerians are receiving services from their leaders, then things will be on course.
Would you support Jonathan's candidature in 20ll?
You see, when you talk of candidature, you have to wait for the person who you are talking about to declare his intention. It's after the person has declared that you will be asking whether I am supporting him or not.