'As an actress, if you don't want rumours to spread about you, stop acting'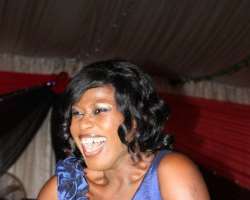 When the rivalry between Omotola and Genevieve was hot, some young talented actresses made a sneaky entrance into the industry. Uche Jumbo however turned out not be be a usurper. After featuring in over 30 movies, Nigerians, especially guys who like her for her other endowments, became her fans. Today, she is also working on her own movies. She spoke with MOYO ODEBIYI in this no-holds barred interview.
Lets know more about you?
I'm from Abriba. I'm from a very large family. I have so many cousins, and I think we are the only Jombos in Abriba. I have four sisters and four brothers. My mom is still very much alive but my dad is late. I have a B.sc in Mathematics and statistics. I did my PGD in Computer Programming and still want to go further.
How was your growing up like?
I was not an easy child. I probably gave my mom tough times growing up. Even with that, I still can't regret anything about my growing up because it's what has brought me to this particular point where I am. Though I wasn't an easy child and I wasn't an easy teenager as well, but I think I've turned out to be a good girl.
What are those teenage memories that strike you when you look back?
I think I did everything teenagers do. I did all the running around, climbing trees and all that. I wouldn't say them because I wouldn't want my mom to read it. She reads all my interviews. So I wouldn't say them.(Laughs).
Did you see yourself acting from childhood?
That's the funny thing. I didn't wake up and decide acting in movies. Movie just kind of came my way. I've always loved entertainment. In fact, when I was very young, I used to mimic Oprah, and sometimes, I dreamt about owning a talk show and things like that. I wish I was one of those people who planned everything in the career, but I didn't. The thing is, I just made use of what God and life brought to me and that was it. I was just at the right place at the right time and it happened. I was given an opportunity to feature in my very first film. The only kind of training I had was through the church drama. Then, I was even acting for competition because I didn't want to be there till I found out that I was competing to win. I think, I played virtually every virtuous part in the bible and I was acting in front of the church. Basically, the film industry just happened to me, it was not something I sat down to plan.
Who are the people you look up to in the industry?
I have so many people I look up to or admire for one thing or the other. Someone like Kate Henshaw, she's evergreen to me. She just keeps it going year after year. Someone like Rita Dominic, I think she has one of the most matured head and has a matured way of handling things. Omotola Jalade Ekeinde for the fact that she's being on the frontline of her career despite her family and still keeping up. I have so many people I admire for one thing or the other. Genevieve is very cool, also Aunty Joke Silva too. I'm sure I am forgetting the rest because you are asking me, but I have so many people I admire. Even Stephanie with this her new film. I like it when people think you are down and you come out well not minding people. I like her.
How long have you been acting?
I've been acting for like ten years now
There are certain roles that artistes play and people wonder if they are really like that in reality; can you liken your roles to your person?
It depends. Now, I don't know how to answer that because I know I have played roles that made me larger than life and when I look back, i'll be like Oh my God, I wish I was like this. And there are some that i'll say please can you be this dumb? So it depends. I can only learn from a character that I admire like picking up positive things from a character I played. I don't think there's basically any role I have played that has to do with me. I could give something of me to a character. Maybe my smile, gesture or whatever because i'm the tool through which the character is coming to life. I've also played roles that I really admire and say I wish I was this strong and all that.
What sacrifice have you made to ensure you play certain roles?
(Laughs) In those days, all the sacrifices didn't pay because when you go for the audition, they would give you the script and you would go to the next stage. But basically, I just think all that is over. I think my career just grew on people. I'm not one of those artistes that just one movie made, so I don't think there has been any sacrifice or whatever. And as I've had no issue, I have jumped and passed that bridge.
Some artistes are believed to be rich with roles they play; are you?
No, i'm not rich. Like I said earlier, you have characters that you admire now. Even if the character ends up bad in a movie, if there's something strong about that character, strong in positive terms, you would admire it. There is something I like about my character in holding hope and I admire a lot.It's the innate strength which is the strength within because you need those kind of people around you to draw strength when mentally you are not where you ought to be or where you thought you had to be at a particular time in your life. I often admire those characters, though they are not me. So, i'm not rich.
Can you tell us about the premiere of holding hope?
We are doing like seven series in four countries, Ghana, U.K, U.S and Nigeria. Holding hope is a project that is dear to my heart and that of my partners, Emem Isong and Desmond Elliot. It's a true life story, a cancer story that we wrote merging two cancer survivors into one character and later on, one of them died. In the program, I met someone and I was reading her breast cancer story on my flight to Harare. It was so pathetic that I started crying. I didn't even know that she saw me. We later had to stop at Addis-Ababa. So she came to me and said why are you upset over something you cannot change. I looked at her and in my mind I was like, whats your business. She then said I saw you on this flight reading about someone you don't even know and you were crying about it; you are letting someone upset you over something you that can't be changed. Then, when she said that, all the anger in me just left. So we became friends. So when I got to Harare, I called Emem Isong and told her about the story. I then told her Emem what if we come out from another angle and do it well. I came back, we plotted the story and they told me I had to loose weight to take the role. Holding Hope is real to me because I met the person we were trying to capture and we achieved it. A day before we finished everything, Desmond called me and said we have finished. You can now eat. It was successful because we believed in it. Most movies need their casts and crew to believe in them.
At the climax, what should your fans be expecting?
Don't worry, you would see it when it comes out.
Which of your movies would you say you performed excellently comparing the previous ones and Nollywood hustlers?
Have you seen Nollywood hustlers? I'm not ashamed to laugh at myself. There is a height you get to in self esteem before you can be so confident. I'm yet to have a role that I cannot challenge myself in it. I like such roles, roles that people wouldn't forget the character. When you get to a point in this career, you try to know the kind of roles you want to play. When we were about starting Nollywood hustlers, Emem Isong asked me are you sure you want to do this with all this packaging? I said yes, I want to do it and I think that was the movie City People gave me an award for recently because its been premiered. I believe the good thing has started already. Nollywood hustlers would be coming out in DVD, in August, in Nigeria. In the movie, we just kind of made fun of ourselves in Nollywood. Its a comic tell about Nollywood, about producers who have no idea of what film production is about and they come in and all that. So we are kind of sending a message and also encouraging. Nollywood is an open door policy but it pays to know what you are doing before you come in so that people would not take you for granted or for a fool or take your money and squander it because they really do not know what they are doing.
What prospect has acting brought to you?
Endorsement, and also the voice. It has given me the voice. I say this in all sincerity and humility because in those days, where I come from women are seen not heard. So I think I am an ambassador to my culture and acting has given me that voice which I am grateful for .
What are you doing presently out of the industry?
I'm financing movies basically, and I'm also promoting Glo brand. I'm a Glo ambassador. So that's it.
If you didn't go into movies, what would you have done?
Right now, I have no idea. At this point in my life and career where I am right now, if it was not movie sincerely I don't know what it would be, thats the truth.
How would you rate yourself compared to others like Genevieve, Omotola Jalade, and others in Nollywood?
No not really, because I think everybody is peculiar, everybody is special. Even as a writer, the worse thing you can tell me is to write about myself. Thats the truth. I would rather have people do that because you know who you are and sometimes who you are might be different from what people see.
What usually are your plans before going on location?
I don't think anything like that is premeditated. To say that there are still people who have been there in the frontline since, they were in the frontline since I started and they are still there. What I'm trying to say is I don't think anyone plans the acting career. You don't plan the success of a movie. There are just things you don't plan. You leave them for the gods of the movies. I think I am doing the best I can for foundation, I am tying my hands to production fully. I'm laying foundations not out of fear but out of becoming a total production person. Like saying my name is Uche Jumbo, a movie maker.
How best do you handle fame from your male fans?
(Laughs) I'm sure its like the next girl, its normal. I've gotten used to it actually, you just handle it the best way you can, politely. You have invited people into your life, they make the judgment. Though they do not know you, but they know you. If you don't want people to talk about you, then stop acting, stop showing up in the media, that's the only way to get through. If you think about it that way, you wouldn't always get up because you would always say, "Oh my God, this people don't know me, so why are they up for me." Having said that, i'm also of the school of thought that the fact people act does not stop them or make them inhuman, they are still human. They still cry, laugh and get bruised.
If there is one person you wish you could dine with, who would that be?
Dine with? It would be Nelson Mandela. It used to be Mandela for a long period of years but now I think it is Obama. (Laughs)
What issue would you raise on that spot?
While dinning with them?(Laughs). You see, these two African brothers are people I look at and say they are heroes. To me, they are larger than life, so i'm sure if I dine with them, I would be shot of words, truthfully I wouldn't be able to think of anything to say.
Lets go a bit into your personal life, what are your guilty pleasures?
My guilty pleasures are shoes
Shoes?
Yeah, I just love shoes.
How expensive is the most expensive one you've bought?
I don't know exactly. Everytime I travel, I'm always saying I'm not buying shoes anymore and when I come back you'll see me with shoes. I just love shoes and I guess its because of the saying that you don't have the height, you buy it. Probably that's why I love shoes, and I love high heels a lot, that's it. Shoes are just my guilty pleasures.
Is that a kind of trend for Nollywood actresses?
In Nollywood, the only actress I can actually rate closer to mine is Rita Dominic. She's the one that wears my kind of shoes. But then again, she's also around my height(Laughs). On the other hand, other actresses don't really like the kind of shoes that I wear.
What other things do you love doing asides acting?
Maybe dancing. But then again dancing is good for me.
What if you get married and your spouse tells you to quit acting?
I think acting is part of who I am, anyone who wants to marry me should accept me for who I am just like I would accept the person for who he is. A perfect person cannot exist because if there is, there wouldn't be God. So I think love in marriage is about accepting people's imperfections and saying I love you despite all odds.
Last year, your marriage plans were everywhere. Why did you later change your mind?
For real? I didn't know about that, you are just telling me. I was going to marry who? I think as far as the press is concerned, I've been planning to marry for many years now.
So when do you intend getting married?
I don't know. If you ask me if I am in a relationship? Yes. If you say are you getting married soon? No. But when I am getting married you would know. Then again, you might not know till I am married. (Laughs)
And who is the lucky man?
I'm not saying that as well
How expensive is the most expensive gift you ever got?
Very expensive but I can't say. The thing about gifts is the giver, do you understand? So you will value it by the virtue of who gave it to you.
Lets talk about your awards both internationally and locally.
Lately, especially this year, I've been recognized and appreciated more than ever and that I am grateful for it. Its a challenge to work harder, do better and place myself ahead of the game. I think I got a recognition of an important input and job quality. It reminds you that you are as good as your movie and if you have the love of acting, you have to improve on one job or the other.
How internationally accepted do you think Nollywood is?
Nollywood is actually one of the positive things Nigeria is selling abroad. I feel more loved when I travel abroad,.That's the truth anywhere in the world. I tell myself, and its good to be part of this.
What would you say is responsible for the growth?
I think it's because we are African people telling African stories. So, basically I think because we are a group of African people telling African stories to Africans is what has brought us to the map of film making.
Has the crises in the guild of actors affected the movie industry in anyway?
I've never been in Nollywood's politics, I've always been on the sideline of politics. I would not comment on political issues that has to do with my guild, it is my guild. It would be sorted out sooner or later.
How do you plan to relate back to some of those who have been your fans over the years?
Its important because I have been shown so much love. Sometimes I go to my community page and vow to do better. I love my fans so much because without them there wouldn't be me. So, they are the reason I have gotten here. The fact they followed me through this journey really helped me to do very well. Though I have not planned what to do yet, but I will get back to my fans.
What would you say about you and the media?
I have a love and hate relationship with the media, just like you quarrel in every marriage. Sometimes, it is cordial, sometimes its sweet, and it could be tough. If you are in a marriage you cannot do anything because you are in for life. So its been a love and hate relationship with the media.
To what extent is the hate relationship with the media?
I always say in this life, never say never because I never thought one day I would go to the court over something written about me. There is a need for people to know that a write-up can hurt not only you, but people around you, people you have to answer to. You have to take measures, I understand its the work of the press, but enough has to be enough. I think that's where we are heading to. If you want to print junks about someone, don't bother to call the person you are writing about because if you call the person and you still go ahead to print junks, you are not only setting your mind wrong but also that of the readers. Don't get me wrong, I don't hate the media, infact, i've been very grateful to some media houses that have been kind to me all through my journey in this career over the years and those that have appreciated how much hardwork it had taken me to get to this point, for that i'm most grateful. But for someone looking out to make a name by writing lies about me, I am the worst enemy you can have. The way I love is the way I hate, that's the kind of person I am and that's why I hold the person up not minding what people say because I know my limitations. There are things people write about you that you just say "they've come again". But when someone sits down to write something that can damage your purpose or everything about you, it would get to a point that you will ask yourself where did I get this wrong? How can someone sit down and come up with this story. I never thought it will get to that point for me because I used to think I was jovial enough, and accessible. You can't say you saw me and I didn't give you an audience.
Where do you see yourself like say in the next 5 years?
I am no longer a big planner, I just work hard and allow God do the rest. When you work hard, you are planning to be bigger than who you are today.