My husband values my legs---Adedoyin Ademeso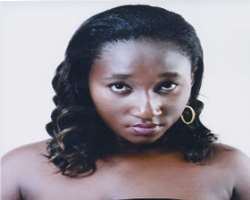 Adedayo Adebakin Ademeso has been in the movie industry for four years. This damsel is a graduate of Micro-biology from Olabisi Onabanjo University. Although she never had it in mind to become an actress, due to her passion for entertainment, she ended up being a Nollywood star. In this interview with ODUNAYO OREYENI, she talks about her background, her business and how she finds fulfillment in acting.
How did you get your first role?
I started acting in May 2006, through a family friend, Ayo Adesanya. I met my first producer through her. We were hanging out somewhere together. He was around and he told me he had a job that he wanted me to do. He looked at me and he said I could fit into the character they wanted to play. That was how we started working.
Was it your childhood dream to become an actress?
Not really, I love entertainment as a whole, from the scratch. But I never pin-pointed acting as a thing I wanted to do; but I love acting.
How was your growing up like?
I happen to come from a small family, my dad, my mum and my younger sister. It was nice.
Tell us about your family and educational background?
My dad is from Ogun State, while my mum is from Edo State. My dad is a businessman, same with my mum. My Mum and I are into a joint business. I've got a little sister; she just finished from secondary school now. I attended Providence Nursery and Primary School and I finished in 1996. Then, I went to boarding school for my secondary education, that is Model College Igbonla, Epe, in 1997. I left the school after my junior secondary education in 1999. Then, I got back to Providence High School in 1999 till 2002. After that, I gained admission into the Olabisi Onabanjo University, where I did a pre-degree programme first in Botany, then I crossed over into Micro-biology. I finished last year.
Aside from acting, what other things are you into?
I do business, I do clothings, and I do shoes and bags.
Where do you get your goods from?
I get them from America, London, Canada and Dubai.
Are you fulfilled with your profession?
I love what I do because basically for me it's my hobby, I enjoy doing it, I love being in front of the camera, I just love acting as a whole.
Since you read Micro-biology in school, why not venture into that instead of acting?
Naturally, I'm acting in line with nature; you know what nature has in store for you is different from what you have. Sometimes you'll find it very difficult to define in between what nature has for you. I've always loved the entertainment, read books, watch movies and everything. I'm a good critic, I criticise movies a lot. Maybe as time goes on I might actually go back into my studied course.
Which of your work will you consider the best of all?
I wouldn't say any is the best, because as an artist, you aim for the best. You'll get to a stage where people will appreciate you even more. Luckily for me, all the jobs that I had to do, I had different roles, different interpretations. They are not being stereotype like a particular role; it's been opportunities to showcase my talents more in each role that I acted. Spider was good, Tinsel was good. Everything I've done was really challenging and good. I played different roles at different times.
How did you get involved in Spider?
I just got a phone call that I should come that someone wanted to see me. In fact that very day I didn't really take it serious because I thought it was a joke. I was just rushing over my rehearsals and everything, and that was how I got it.
Which was your first movie you featured in?
Tears in my heart, I featured alongside Kanayo O. Kanayo, Chioma Chukwuka.
What is your source of inspiration?
God, because He is my solid rock over the years.
Have you ever been sexually harassed before, maybe when you were trying to get roles?
Like I told you, I started very easy. By the grace of God it was easy for me. After I started so well and easy, will anybody now want to sexually harass me and I will fall victim? It's not possible. Not at this stage will anyone want to sexually harass me. It never happened then and I don't know if it will ever happen anymore. You should create respect and a niche for yourself in this industry.
What will you consider your biggest achievement so far?
Nothing really, I will say knowing God was a great achievement for me, because without God you are nobody. If you know him as your Rock of Ages, if you know him as one that can do everything for you, then you can achieve anything. He's been there for me, really and truly. Looking at where I come from and where I'm still going to, God has just been my deliverer.
What are the challenges you face as an actress?
There has never been any challenges really; maybe because I take my time after picking up my script to digest properly. I put myself into the character well, way before working. So I've never had any problem while on set, except maybe I'm distracted once in a while.
Were your parents in support when you started acting?
Yes, my parents knew. It's a thing to understand your children; it's another thing to understand what they want. My parents have always been in support of my passion, so they really love it and they have been supportive about the whole thing.
How long have you been married?
I got married in 2008.
Who is he?
He is Larry Ademeso.
Is he a public figure?
I don't discuss my marriage.
How did you meet him?
We just met on the street of Lagos. He was driving and I was waiting for a taxi. So that was how we met.
What qualities did you see in him, that got you attracted?
He's God fearing and very tolerant. He's very understanding; he supported me through my business. He's been an inspiration, apart from God. He loves his work, for me, he does his job as if he owns the place. He gives me reasons to want to continue, even when business is challenging.
Since you were still in school when you got married, how were you able to cope with school, your marriage, acting and business?
Actually, during the time I got married, I was on break then. I was about to start my Industrial attachment. I had gone a little into my marriage before resuming in school. I was already prepared in resuming school. I was already into my marriage for like four months. It was not really easy anyway, as at then I don't have a place anymore. Though I really had an apartment, but I wouldn't stay there, because sometimes I will go to school in the morning and come back to Lagos in the evening, or I will stay back for like two days. So it wasn't that easy for me.
What are your likes and dislikes?
I love honest people, down to earth, friendly and God fearing people. For my dislikes, I hate backbiters and gossips.
Is there anything you cannot dare?
I'm a very tolerative person, I tolerate people a lot. I give you a long rope. Like my husband usually say, make excuses for people. I make excuses for people, because there is hardly anything I cannot tolerate with people. Like I said earlier, I hate gossips and backbiters.
How do you handle your male admirers?
Definitely, male admirers will always come. Whenever they come, I just wave my fingers for them to see that I'm married.
But some men are very stubborn, because despite the fact that you are with a ring, they will still come?
Of course I don't give them my numbers, when I know they are admirers. Some men will come to buy some fabrics and other things for their wives, but when it gets beyond limit, I know when to stop them.
How will you define your style?
I'm just a very simple person; I'm not a designer freak. I wear anything that suits me.
Which part of your body do you value most?
I value my face; because that's the first thing everybody will see when they come close to me. I value my face and my leg, because my husband values my legs a lot.
How do you relate with your fans when they see you.
I appreciate them. Sometimes when people look at me and I wonder why is he or she looking at me. And when they call my name, I just say hello to them. There's nothing to it, we are just like any other person.
Can you name the soap-operas and movies you've featured in since you've started acting?
For soap-operas, I've done 'Tears in My Heart', 'Dangerous Blind Man 1&2', 'One on One', Oro', that's a Yoruba movie, 'Prince of My Heart' and then 'Titanic Battle'. For the soaps, I did 'Spider' and Tinsel.
Out of the Soaps, which one do you consider as the best?
They are two different things entirely. For Tinsel, I had to do a professional role. I played a married lawyer. It was really challenging because I know nothing about law, so I had to learn more and it was educative. For Spider too, I was not a business oriented person, I was not an administrative person, so I had to learn more too. They were really nice.
Is there anything you are working on currently?
I don't have to tell you what I'm working on now, so just wait.
Will you in any way stop acting as time goes by?
If at all I'm going to stop acting, then I will go behind the camera, as a producer.
Do you ever have any regret going into acting?
I've never regretted it because I love what I do.
Where do you hope to be in the next five years?
Wherever God wants me to be. You can only say your own plans but you can't know. But I hope to be happy, have a good family, kids and a good business.
What are the things people don't know about you?
Nothing. I'm a very down to earth person. Apart from my business my marriage, there's nothing hidden about me.
Any advice for the upcoming artiste?
Stay focused; no distraction. If you are determined to get there, you will definitely get there.