Goodseed Daily Devotional 24th November 2022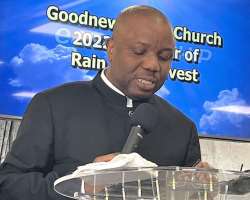 Apostle George Amadi (Lead Pastor: Goodnews Bible Church, London)
Topic: LIFE'S CROSSROADS.
TEXT: ISAIAH 30:21. "And thine ears shall hear a word behind thee, saying, this is the way, walk ye in it, when ye turn to the right hand, and when ye turn to the left.".
Samuel Elkhanah was sleeping when he heard the voice of God. He couldn't recognise the voice of the Lord because the experience was new to him. He went to Eli and was directed appropriately. Every Christian must be familiar with the voice of God. He still speak to his own till today. Just consecrate yourself and you will hear his voice. The first time I heard the calm voice of the holySpirit, I was so excited during my High school days and that voice saved me from a lot of trouble in my young life. Hallelujah. That's why I can't make mistake in the journey of life because God's Spirit still led me to the right part. In the high way of life, a time comes when you have to make very important decisions, which will affect your future. At that time you have come to the crossroads. You need divine guidance to know which direction to follow.
You must train yourself to hear God's still small voice because most times the voice of man is not the voice of God. Rely on God's promise that says " I will instruct thee and teach thee in the way which thou shalt go: I will guide thee with mine eye. "Humility, Submission and faith will enable you to accept and follow the leading of the Lord at all cost in the choice of subjects, career, friends, marriage, clothing and daily programme. Rely on God's promises, in all thy ways acknowledge him, and he shall direct thy paths.
PRAYER: My Saviour Jesus, lead me lest I stray. As I step out today am making the right decision/Choices inline with God's will in Jesus name.
Goodseed Daily Devotional is the publication of Apostle George Amadi- Senior Pastor Goodnews Bible Church London. If you are in the London area do worship with us at 2nd Floor Unit 4 Westmoreland House Scrubs Lane White City NW10 6RE