Aminu Waziri Tambuwal: The Making Of A Political Generalissimo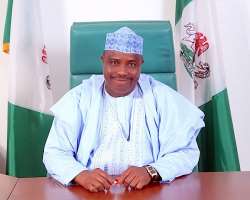 Rt. Honourable Aminu Waziri Tambuwal (Sokoto State Governor)
It is no news that the Governor of Sokoto State, the Rt. Honourable Aminu Waziri Tambuwal is contesting the Senatorial seat of his zone, the southern zone of Sokoto state. The Governor is also the Chairman of the Nigerian Governors Forum and the Director General of his party's (The PDP) Presidential Campaign Council.
What baffles many Nigerians is how does he amass all the strength to perform these duties simultaneously with seeming ease and a lot of exuberance?
He is mostly on the road attending one function or another in the discharge of these duties.
I don't envy him at all, because I know its takes extraordinary discipline, perseverance and hard work to navigate these waters. Certainly, it only takes a special personae to do these fantastically without qualms.
While performing the duties of a Governor with the fore-mentioned that require often being absent from the state, many pundits including his opponent at the Senate race think, that ambition is taking a back stage and may cause him dearly. I beg to differ; knowing what I know!
First to come to mind is his sterling records as a politician and an administrator in his Senatorial zone and in the state as a whole.
His achievements may not be your ordinary politician's infrastructural hullabaloo of building weak, defective structures that were designed, ab-intio, to deceive the public into seeing red from blank.
He has succeeded in changing the narrative from 'populous', often, deceptive white elephants to human capital development projects that are designed to develop the society and the population in real time not some kind of imaginary dividends of Democracy.
He has built quality Schools and hospitals and topped them with provision of quality education and the delivery of first class health services to the hospitals and other public health institutions. He has proven right, the dictum that says it is not how far but how well things are done that matter.
Sokoto state has benefitted from these verifiable efforts that he has permanently planted and are yielding positive results.
The way the leadership of the opposition APC is treating its members has also helped his cause like the Shakespearean character of Julius Caesar who to many in Rome, was a hero, not a villain despite the machinations of Brutus and Co.
The recent exodus of APC members to the PDP in droves and from all corners is certainly a testimony of approval and acceptance for him. For four former gubernatorial candidates of the APC and their thousands of supporters to switch to his side in a flash is certainly more than a testimony that he is in charge.
With this feat, it is only the ignorant and the Politically naive that cannot read the arithmetic well.
He has also put his life and political capital on the line when he, unapologetically declared war on hooliganism and youth restiveness in the state; a phenomenon that was hitherto, a pre-requisite and a most to align with by all leading politicians .
The government before his, which I must admit at one time or another, being part of, as a passive contributor had made support for hooligans also known as area boys as a yard stick to get the attention of the Boss.
Parents and relatives of these young, uneducated youths who often are at the receiving end of these fallouts would forever be grateful to him and give him their votes and sympathy for free.
He certainly has thousands of those votes even without asking. Ingenious and truthful you may say. Beat this if you can!
Dr Maishanu is a former Commissioner of Information, Sokoto State