Why Paw-paw lost out on National award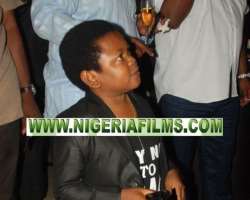 Osita Iheme a.k.a Paw-paw may have forgotten this story, but the fact remains that the diminutive actor may have robbed himself the rare chance of being nominated for the National award.
Paw-Paw's screen twin, Chinedu Ikedieze popularly known as Aki was one of the distinguished Nigerians who were accorded recognition last Thursday by the Federal Government. A gesture which generated controversy as many stakeholders in the movie sector blamed the government for failing to extend the same treatment to the other actor.
It was however the stakeholders' conviction that both diminutive actors started off their careers same time, featured in the same movies and won many laurels together and therefore desire to be honoured jointly. But a new twist to the story is the fact that Paw-Paw is now being held responsible for his own misfortune as far as the nomination for the award was concerned.
A woman who wouldn't want her name in print, after reading Aki's award story which was published last Saturday has narrated an incident that happened early this year, which is believed to be the reason he could not be accorded the same honour.
In a text message sent to HVP, the source alleged that Paw-Paw snubbed her husband while the latter was trying to introduce him to their state Governor for possible recognition.
The woman narrates the incident this way; "I and my hubby sighted Paw-Paw at the Excellence Hotel, Ogba, Lagos. My hubby quickly called on our state Governor and notified him of his intention to invite Osita to come to our oil rich state to perform, and also to draw him close to the government.
But surprisingly, when my hubby advanced to greet Osita he snubbed him outrightly. My hubby is a very wealthy man, well-connected and kind-hearted. He felt so bad on that day. Don't blame the government, Aki might be better off than Osita"
The woman, however declined further comments, when HVP contacted her for more clarification.
Also, on his own, Paw-Paw denied knowledge of such incident, saying "I'm not aware of it."