Senate Passes Electoral Bill's Conference Report, NDDC 2010 Budget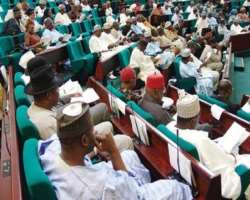 ABUJA, July 29, (THEWILL) - All is now set for the conduct of the 2011 general elections at least on the aspects of providing the necessary legal backing, with the final passage into law today the conference report of the Electoral Act (INEC) 2006 (Repeal and Re-enactment) Bill 2010.
The Senate also waived the contentiousness of the N240 billion Niger Delta Development Commission (NDDC) 2010 budget and effortlessly passed the bill, thus burying the observations of seeming bogus allocations to the overhead cost, which led to stoppage of debate on Wednesday.
The passage of the Bill was preceded by the clause by clause debate of the report of the conference committee on the INEC Act 2006 (Repeal and Re-enactment) Bill 2010).
The Bill seeks to repeal the 2006 Act and Reenact the 2010 Bill which will control wastages of fund, streamline election days and bring about free, fair and credible elections in the future.
Senate President, David Mark in a remark said that the passage of the Bill will instill confidence of the people in the electoral process and urged everybody to ensure that they lived up to their responsibilities.
Major highlights of the bill is the election sequence, which put the election of the National Assembly members first followed by that of the President and the Governorship and state Assembly election taking the rear.
Also, the amended law reaffirms the internal democracy principles as contained in the revised constitution. It specifically provided that there must either be direct or indirect primary elections by the political parties, thus foreclosing any form of automatic ticket.
However, the NDDC budget shows that N5.860 billion was allocated for personnel expenditure, N6.964 billion for recurrent expenditure, N1.730 billion for capital expenditure (internal) and N222.032 billion for Projects (Development) Expenditure.
Meanwhile the Senate today adjourned plenary session till September 21, thus closing for the session.