A Carbon-Free Generator Using Urine As An Alternative Source Of Energy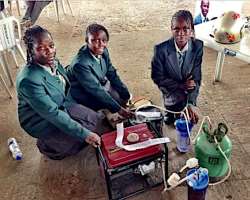 ODIMEGWU ONWUMERE writes in this report about four Nigerian girls who invented electricity by cleaning hydrogen in a water channel before injecting it into a gas chamber with urine. The hydrogen gas is pumped into a fluid borax chamber, where it is used to eliminate moisture. This refined hydrogen gas takes care of the generator.
Urine is portrayed as a fuel by a few Nigerian student scientists addressing what might be possible in the future, particularly now that gasoline subordinates like coal are gradually running out.
They are trying to find alternative sources of energy like sunlight, wind, biomass, geothermal energy, and so on. They were in the school's guest room at one point because they were constantly urged to think of ways to help solve human problems.
They thought about how to deal with this problem. Instead of using the usual fuel, they thought about how they could drive the generator; something that could replace conventional power but wouldn't release harmful gases like carbon monoxide into the air; something that Nigerians would also find modest.
They began examining various materials. They looked at water, but they thought it would take a lot of voltage to break a water molecule, so they needed to do something small to get a big result.
They decided to look at the effects because most Nigerians choose something they won't have to spend money on. As a result, they started looking at various materials, including urine.
They were looking for something that was fluid and contained hydrogen particles. They also observed that the voltage required to break a urine particle differs from the voltage required to break a water hydrogen particle. Since they had a better result, they decided to test urine.
The output
On November 6, 2012, Duro-Aina Adebola, a 14-year-old; Akindele Abiola, a 14-year-old; Faleke Oluwatoyin (14); and Bello Eniola, a 15-year-old, invented a generator that ran on urine.
At that year's Maker Faire Africa in Lagos, Nigeria, the four young ladies' creation was undoubtedly one of the more surprising exhibits.
Better-informed individuals claimed that the young woman's invention ensured that one liter of urine provided enough power for nearly six hours. The young ladies made sense of the fact that urine is put into an electrolytic cell, which separates the proteins from the urine, by explaining how the power worked.
Before being infused into the gas chamber, the hydrogen is cleaned in a water channel, according to them. The hydrogen gas is pumped into a fluid borax chamber, where it is used to eliminate moisture. This refined hydrogen gas takes care of the generator.
World of science thrown into assessment
Their recommendations have incorporated the entire scientific community into assessments. It was determined that individuals alone generate at least 6.4 trillion liters of urine annually.
The people who did a better job of analyzing this said that this idea has a lot of regional flavor. According to Sugato Hajra and Debshree Chowdhury's argument presented in the 2014 issue of the International Journal of Students' Research in Technology and Management, this innovation may have an advantage over other sustainable power sources like sunlight and wind, which are not particularly financially savvy.
Urea, a significant component after water, is also present in urine, the source said. The urine is typically water, but it also contains other substances like sulfates, urea, smelling salts, and uric acid.
The synthetic formula for urea is CH4N2O. After that, the urine is taken to an electrolytic cell, where it is electrolyzed to make hydrogen gas, which is a crucial component of the producing system.
The game plan's various components are roughly connected to the four hydrogen atoms. As a result, the hydrogen gas traverses various components. This cleaned gas provides power to the generator.
How the invention got started
Unfortunately, the epileptic power supply forces the majority of Nigerians to rely on generators that use petroleum products.
Africa's leading oil producer faces typical issues of fuel and power shortages.
Additionally, numerous businesses have ceased operations as a result of their inability to bear the expense of procuring high-priced fuel from the underground market in order to power their generators.
"We saw that many Nigerians and organizations depend on a power supply and have been practically shut down because of the significant cost of power, so we chose to make a device that will mitigate this issue," Eniola Bello, one of the students, said when explaining what led them to the invention.
"We discovered that byproducts can be used to generate energy. Consequently, we decided to investigate urine.
Another student, Adebola Duro-Aina, claimed that the little generator could run for a day and a half on six liters of urine.
"This urine is being electrolyzed, delivering hydrogen and oxygen gas, and this then goes into our fuel tank," she claims. "The gases are stored in our fuel tank here, and whenever we require gas, we can open the fuel tank and deliver it, and our generator is controlled."
How the innovation works
According to them, is that generator is typically powered by fuel. Because it burns more slowly than hydrogen gas, they had to hinder the generator from starting.
They actually obstructed the generator's back-timing by 11 degrees. An impeding generator, an electrolytic cell, a water channel, an empty gas can, and an old battery cell that they found in the trash can serve as the electrolytic cell.
They took out the things that were in the cell and used a network of punctured tempered steel as the terminals. As a result, urine is put in the electrolytic cell, where it is electrolyzed and delivers a mixture of hydrogen and oxygen gas.
After that, the water channel receives this blend. After passing through the water channel to get rid of any contaminants that might have mixed in with the gas, it goes into an empty gas chamber, where it fills in as the gas stores do.
The hydrogen is forced through the gas chamber into a chamber filled with fluid borax, which is used to dry out the hydrogen gas.
Borax acts as a drying agent because they don't need a lot of moisture entering the generator. Additionally, borax aids in the elimination of any additional pollution brought in by the gas, they explained.
The hydrogen gas that has been filtered is then driven into the generator. The water fume is the fume for this generator. Because it does not generate carbon monoxide like a typical generator powered by fuel, it ensures a clean environment for Nigerians.
Since then
Local and international academics have been on the lookout for urine-motivated energy sources.
Gerardine Botte, an Ohio University professor of chemical and biomolecular engineering, explained the girls' experiment by saying that extracting hydrogen from pee takes more energy than one gets back in the form of power.
The inefficiency of the generator utilized in the girls' project tilts the energy equation even more.
"At first appearance, they don't appear to be gaining energy," explains Botte. "However, I believe it's vital to point out that these small girls who are attempting something like this deserve a lot of credit.
Some accept the young ladies' innovation was an in-poor-condition achievement, yet they are praised for utilizing secondhand or other easy-to-find parts.
These secondary school students had the option to fabricate a gadget that isolated hydrogen gas from pee, to make a framework to filter and store that gas, and to change over a conventional generator into one that worked with that hydrogen gas. This is a success story.
This gadget probably won't be the answer to the world's future energy needs, yet such a framework could be a method for eliminating waste while recuperating a portion of the energy engaged with that interaction and consequently fuel homes without filling them with the harmful gases that internal combustion generators commonly produce.
This is a point that Gerardine Botte likewise made, saying that "when placed with regards to wastewater treatment, the idea of involving pee as a hydrogen source to create energy has incredible potential."
Authorities on biogas
In March 2021, the Federal Government and a local company, Lumos Laboratories Nigeria Limited, supposedly tapped into the idea of the young women to develop a comprehensive waste management framework for the production of biogas from feces and biodegradable wastes that would be used to produce electricity and cooking gas in rehabilitation centers across the nation.
The lead consultant for Lumos Laboratories and the inventor of the biogas technology, Ejikeme Patrick Nwosu, stated that the use of carbon-rich energy sources and petroleum derivatives causes deforestation, ecological problems, and climate change. He also stated that no nation can claim major strengths like energy independence.
Nwosu, who is also an expert in science, realized that he could handle Nigeria's energy crisis by sending native technology.
"Notwithstanding its enormous population and high levels of waste production in the country," he stated, "Nigeria is not energy-free. If we properly manage our waste, we will generate energy that can be used to address our vexing energy issues.
"We are collaborating with the Federal Ministry of Environment on the most effective method to control wastes from the remedial facilities into gases for cooking, power generation, and cleaning the remedial facilities. "
The organization of the native innovation, according to Raymond Jatau, the Deputy Comptroller, Corrections, Water, and Sewage Treatment at the Nigeria Correctional Service, is an extremely useful drive and an answer that came at an extremely difficult time, when offices that were intended for a relatively small number of detainees are currently experiencing tension as a result of serving the increasing number of prisoners. Over 67,000 people are currently in jails across the country.
Massive waste is not used
"We generate a lot of waste that isn't properly disposed of, which causes our host networks to come in and complain." Jatau stated. "They make an honest effort to bring garbage removal trucks, but they wind up arranging them according to the climate."
It was discovered that biomethane is a renewable energy source that has no negative impact on the environment at all. Biomethane is produced naturally by the breakdown of natural materials like green waste, household waste, waste from rural areas, waste from the food industry, and, surprisingly, modern waste.
Nwosu, a graduate of Nnamdi Azikiwe University, Awka (NAU), Anambra State, with a Masters of Science certification in Organic Chemistry from the University of Ibadan (UI), Oyo State, used them to say that Nigeria was expected to receive 19.5 million cows, 72.5 million goats, 41.3 million sheep, 7.1 million pigs, and 28,000 camels from the 2011 National Agricultural Sample Survey.
If these animals are raised properly and their waste is collected and handled, they can produce more than 10,000 megawatts of power.
Experts' review of urine-fuel
According to Nwosu, there has been progress toward the goal. One patent covers the creation of the Ezeugo Flask, while another covers the production of fire retardant paint using results from Lumos Laboratories' pee-to-energy handling.
He stated that their results have been significant and may provide an effective alternative to the utilization of carbon-rich gases as an essential energy resource.
They can reliably and slowly increase the amount of hydrogen in the gases they use, eventually eliminating the use of contaminating carbon-rich gases.
They are working on the Queen Elizabeth School in Ilorin, Kwara State, Nigeria, as one of the task locations.
The goal is to use the boarding students' urine to generate clean electricity for the inn. They have successfully completed the fundamental plant testing.
Prior to full authorization and handover, they are focusing on illumination and specialized training for specific students, educators, and staff to manage the plant to ensure proper upkeep and supportability.
The concern expressed by the experts
"We don't need a situation where a task of this nature is conveyed to a host local area that doesn't have the expected limit and specialized information to run and keep up with the plant," Nwosu stated.
"This has been one reason why most ventures started in Nigeria fail," he said. "Due to the energy needed to see that our ideas are being reproduced and used in different parts of the world, we would very much like to see each of the plants we develop endure for an extremely long period of time due to the energy we need to see that our ideas are being reproduced and used in different parts of the world."
Nwosu went on to say that a urine redirecting toilet (UDT), which is used to separate and collect urine from a specific location, is one of the essential components needed for this project.
Despite the abundance of raw materials, he stated that no company currently produces those in the country. He grinned, stating that it was unreasonable due to the high cost of importing those items, despite the fact that they could be produced locally.
Looking for people to improve the project
The girl-innovators are looking for people who want to improve the project because they know that one liter of urine can provide six hours' worth of power.
They believe that the public ought to adopt the idea and assist them in improving it, so that it may end up in every Nigerian home because it was not made to be left around; it was designed for use by Nigerians.
The only thing the girls really want is help so they can succeed. Each home can have this. They need to know what's happening. Additionally, they must ensure that there are no multiple compartments.
Typically, they are a single unit that can be easily connected to a generator. The fact that the room lights come on when the girls turn on the generator is convenient.
"Everything in the house is powered by the generator," said one of the students. "We felt so alive. The moment the generator started working, we were so happy."
Onwumere writes from Rivers state.