Tinubu Rejects President Buhari's Nominee For Campaign Council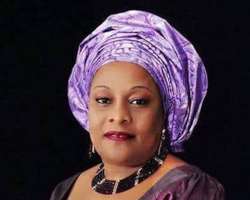 The presidential candidate of the All Progressives Congress (APC), Senator Bola Ahmed Tinubu, has reportedly rejected Margaret Chuba Okadigbo as the Zonal Coordinator for the party's presidential campaign council in the South East.
It was learnt that the nomination of Mrs Okadigbo was made by President Muhammadu Buhari for the Tinubu-Shettima Presidential Campaign Council ahead of 2023 general elections.
Sources that confided in newsmen said that the former Governor of Lagos State rejected the nomination of Margaret, who is the widow of the late former Senate President, Chuba Okadigbo.
One of the sources said, "His (Tinubu) South-East penetration is the lowest, he refused Buhari's nomination of Okadigbo's wife to handle his South-East campaign.
"He felt she's not capable enough despite being told by the President to pick her."
A source has also revealed that Tinubu has appointed James Faleke as the Secretary of the APC Presidential Campaign Council.
It was learnt that the decision to appoint Faleke is against the advice of the APC National Executive Council.
The source disclosed: "A serious crisis is rocking the party over Tinubu's refusal to accept those nominated to him by party leaders to handle his campaign.
"While he (Tinubu) wants to handpick key people to head the campaign council, party leaders especially the chairman and the presidency through the cabal want their loyalists to be in charge.
"I won't deceive you, Tinubu's candidacy is currently receiving the cold shoulder. Imagine, he said he doesn't trust the party chairman. Now he can't constitute a presidential campaign committee because of such a high-level crisis.