Netizens Go Abuzz Even As Rita Dominic's Set Of Twins Story Is Fake News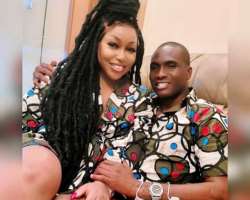 The report making the round that Nollywood actress Rita Dominic and her husband, Fidelis Anosike, have reportedly welcomed a set of twins has once again confirmed that there are unprofessional Journalists that are in a hurry "To make it" contrary to the ethics of the profession, and thereby demeaning the profession before other professionals in various fields of human endeavors. Little wonder Journalists are often seen as beggars at public events.
As widely reported, the twins, who are baby girls, were delivered in the United Kingdom. It was gathered that the news broke this morning as the popular actress posted the photo of the twins on Instagram. A source disclosed that the mother and children are in good health.
It would be recalled that the good news is coming months after Dominic and her husband, Fidelis did their traditional wedding on 19 April 2022 in Imo State. Dominic had earlier announced their engagement on 5 April.
In fact, social media has been buzzing with congratulatory messages ever since the news of her delivery broke. The purveyors of the story reported that one reason many have the news with joy is that this set of twins is the 47-year-old actress' first issue. However, at the time of her wedding in April, it was clear that she was already pregnant.
It is expedient to say that before the news was published that it ought to have been verified; either by reaching out to Rita or Fidelis in the first place. To my view, it would have been easier to reach Mr. Anosike who is invariably the publisher of the Daily Times Newspaper; If not reaching out to him directly, he could have been reached through professional colleagues. Rather than do the needful as ethics of the profession dictates, they jettisoned the principle of balance and fairness, which is a sine qua non in professional journalistic reporting.
At this juncture, it is germane to ask some questions that directly impinge on the ethics of the profession; Journalism. First and foremost, "What do fairness and balance mean in the journalistic context?" "How far must journalists go to present all sides of an issue?" "In urgent site, do all points of view have to be presented immediately?" "What is "false balance"?" "Do journalists also have an obligation to be balanced and fair? "What is the meaning of balance and fairness?
At this juncture, it is expedient to say that balance and fairness are classic buzzwords of journalism ethics: In objective journalism, stories must be balanced in the sense of attempting to present all sides of a story. Fairness means that a journalist should strive for accuracy and truth in reporting, and not slant a story in the bid to sensationalize the story.
Ostensibly not sure of the authenticity of the news, a particular online, news platform (Name Withheld) coined its headline on the report thus: "Rita Dominic: Fans Flood Social Media with Congratulations amid Rumours of Actress Welcoming Twin Girls in the UK. Other news platforms, alleged that she (Rita) posted the news on her Instagram page. But alas! As this writer visited her Instagram page, nothing of such was posted. Rather, her last post on her Instagram page was done 5 days ago.
Boom! As if to confirm my misgiving concerning the news, Daily Trust this evening reported a piece of breaking news with the headline that completely pooh-poohed all the screaming headlines that have been trending online since morning. The headline authoritatively goes thus, "Rita Dominic Has Not Given Birth To Twins, Says Business Partner Mildred Okwo."
To copiously quote Daily Trust's Reporter, Ademola Olonilua, in this context, the news report as published goes thus, "Mildred Okwo, a business partner and friend of popular Nigerian actress, Rita Dominic, has debunked the rumors making the rounds on social media that the movie star has been delivered of twin girls.
"In an exclusive chat with Daily Trust, Okwo stated that the actress was on a movie set when she took a picture, which made some bloggers believe she is pregnant or had put to bed.
"She said, "You see somebody on set today, and the next day they have twins; I do not understand. If Rita has had a child, would I not send a press release to you guys? Common, it does not make sense. Can you imagine? She took a picture while on a movie set. She posted a picture; she is on a movie set; maybe I should call her to find out if she has given birth.
"It is bloggers that are peddling fake news. Kindly ignore them. If she has a child, there is no way that I would not make the announcement and I will definitely not talk to bloggers."
"Okwo is a Nigerian film director and producer whose films have been nominated and won several prestigious awards in Africa including AMVCA, AMAA, NMA and "Publix du Prix" at Nollywood Paris.
"In 2006, after her return to Nigeria, she wrote, co-produced and directed her film '30 days'. Many popular film actors in Nigeria performed in the film including Joke Silver, Najite Dede, Genevieve Nnaji, Segun Arinze, Rita Dominic, Kate Henshaw and Norbert Young.
"30 days was released in the US on April 30, 2006. It received 10 nominations at the 2008 Africa Movie Academy Awards including Best Art Direction, Best Screen Play, Best Cinematography, and Best Picture.
"The iconic actress, Rita Dominic, and Mildred Okwo are the founders of The Audrey Silver Company".
At this juncture, it is expedient to urge some of our colleagues to take it easy, and that the Journalism profession is quite unique from other professions as it is not practiced in a hurry.
The reason for the foregoing admonition cannot be farfetched as Journalists play important role in seeking the truth and reporting it to the public.
It is unfortunate that as we experience a media revolution in this era of digital-first news that journalism is more democratized, interactive, and instantaneous than ever before, so much so that anyone with an internet connection can open Twitter and make a statement that others may perceive as truth.
As a result, professional journalists have an even greater responsibility to champion the truth, disprove fake news, and fact-check trending narratives to ensure the public has access to reliable information online.
The fact that journalists assume four primary responsibilities, including seeking truth and reporting it, minimizing harm, acting independently, and beingaccountable and transparent cannot be denied in this context.
Against the foregoing backdrop, it is expedient to urge journalists to always seek the truth and report it. This is expedient as one of the most significant responsibilities journalists have is to verify the accuracy of their reports and communicate the truth. Journalists must convey the truth in every format and provide context to avoid misrepresenting information. For example, ethical journalists should avoid clickbait headlines that intend to oversimplify or misconstrue the truth. In addition to providing clarity, journalists should always verify sources and check for reliability and impartiality.
On a final note, it is germane to opine that Journalism ethics is founded on the belief that human beings deserve respect and truth. Journalists must exercise compassion and avoid unnecessary intrusiveness. They must also gain legal access to information and respect an individual's consent and right to refuse information. Journalists have an even greater responsibility to minimize harm when it comes to covering sensitive topics like family matters, such as this, or vulnerable populations.
Disclaimer:

"The views/contents expressed in this article are the sole responsibility of the author(s) and do not necessarily reflect those of The Nigerian Voice. The Nigerian Voice will not be responsible or liable for any inaccurate or incorrect statements contained in this article."