OSHIOMHOLE CHIDES EDO STRIKING WORKERS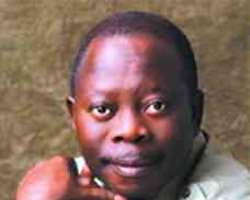 Governor Adams Oshiomhole of Edo State has described the three-week-old strike embarked upon by the state chapter of the Nigerian Medical Association as blackmail and ill-conceived Declaring open the Annual General and Scientific Conference of the association in Benin-City yesterday, Comrade Oshiomhole said: 'Edo State Government, under my leadership, will not fix a date for the implementation of an agreement that has not been discussed. I think I have not refused, if I intend to refuse I will say so. I insist that we must discuss how the agreement applies to us.
'I am happy you recall that I came here last year not with protest and I said negotiations were going on in Abuja. I said Edo State Government will not be hostile to the outcome because I believe that our own workers are not inferior to federal workers. Therefore, I cannot accept that my doctors be treated as inferiors. I said when they are done, Edo State Government will be quite happy to implement. But I didn't say I am going to do it from January because I won't be more Catholic than the Pope. 'The Federal Government with whom you started negotiation when did they start the implementation?
How could I have started before those who authored the agreement?'
The governor argued that as the governor of Edo State, he is accountable to the people of the state, noting, 'that I am not in Benin to take orders from Abuja. I am in Benin to provide leadership to Edo State. And what I do or failed to do will be based on conviction.
'The challenge we have in Edo State today is that my own human right, that is, the right to sit down with medical staff to discuss how that agreement will apply to us is being denied. I should just announce the pay to date. That is never going to happen.
'I ran for governorship so that I can make decisions not for others to make decisions for me to implement. Even when I copy, I make a decision to copy.
'And when a doctor is in a hurry to abandon his patient and preside over his death on dubious ground that he has a pay to claim, we need to revisit the whole question of ethics. Whereas we can pay arrears when issues are resolved, lives lost cannot be brought back, so why are we in a hurry?
'The Federal Government with whom you negotiated, when did they commence the implementation? Even now the federal resident doctors are on strike over that agreement. I, who was not even a party, I did not even negotiate, and I have no right to sit with doctors to discuss? Let me tell you even if you put gun to my head, I shall not yield. We must sit down to discuss.
'If the strike shall last for one year so be it, because we must call off the blackmail,' he added.
Comrade Oshiomhole said it was wrong for doctors to be in a hurry to commence the strike, pointing out that it was not consistent with their oath.
The governor reiterated his opposition to the appointment of INEC chairman by the president, adding that it was not ethical just as he said the solution to Nigeria's electoral problems was a revisit to the Uwais report.