CBN Injects N130B To Real Sector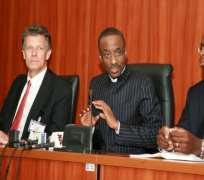 ABUJA, July 27, (THEWILL) - Central Bank Governor, Sanusi Lamido Sanusi, today said over N130 billion was released to the Bank of Industries (BOI) for disbursement to the Small and Medium Enterprises (SMEs) through selected banks.
Sanusi disclosed this in Abuja when he played host to Mr. Jyrki Koskelo, Vice President Global Industries of the International Finance Corporation (IFC).
Sanusi said the release of the fund is part of the N500 billion infrastructure fund set aside to help the real sector of the Nigerian economy.
The BOI recently screened and approved 130 firms to tap from the fund, stating that the CBN would go through the approval and release the funds, adding that the formal signing ceremony would be done by President Goodluck Jonathan very soon.
It is expected that a total sum of N200 billion would be disbursed to the SMEs before year end.
On the travails of the ten rescued banks, he said discussions are on with investors, stressing that bids for prospective core investors of the banks have already been submitted as the deadline is slated for July 31, 2010.
"These bids would be properly handled by the apex bank as they would go through due diligence at the end of which a preferred as well as a reserved bidder would be declared," he said.
He said no bank has been put out for sale besides the 10, as others are restructuring to boost their capital base, either merge or acquire one or the other for better output.
Koskelo applauded the apex bank's reforms noting that banks in every country needs support from institutions such as the IFC, stressing that the Corporation would continue to work with the CBN and banks to ensure that the sector maintains a balance.
"Our role is to be supportive of what the CBN is doing; we are going to engage in other transactions in the Nigerian economy to especially strengthen the banks and have a strong economy in Nigeria.
"One important thing is to fix the banks and the CBN is doing that very well, I must admit, we will encourage the banks to invest more in SMEs, power, health, agribusiness and infrastructure.
"We are sponsoring risk management, good corporate governance and we will have to encourage the private sector to invest in power because the CBN or government alone cannot do it, there must be a policy in place for that as well. There is need to grow the capital market so as to boost growth, we would support CBN's clean up exercise in terms of the reforms and this is a road with several steps," the Vice President said.