Open Letter To Asiwaju Bola Ahmed Tinubu: Seize This Unique Opportunity To Leave Indelible Footprints In The Sands Of Time. Asiwaju Bola Ahmed Tinubu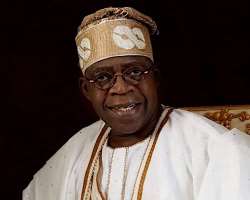 Bola Ahmed Tinubu (APC presidential aspirant)
(Jagabanm Borgu)
Bourdillon Road
Ikoyi, Lagos
Dear Asiwaju,
OPEN LETTER TO ASIWAJU BOLA AHMED TINUBU: SEIZE THIS UNIQUE OPPORTUNITY TO LEAVE INDELIBLE FOOTPRINTS IN THE SANDS OF TIME
Thus far, your life has been the stuff fables are made of. You have lived a life that can easily found the script of a Holywood blockbuster for an inspirational meteoric rise from grass to grace, from very humble origins to wining and dining with Presidents and nobility; from a junior staff of a sectoral conglomerate to the de-facto entity presiding over the affairs of multiple States in the Nigerian Federation, States whose total economic strength rank them in the top five bracket of economies in the African continent; from an activist involved in mobilizing against totalitarian regimes to a behemoth who almost singlehandedly enabled the emergence of Nigeria's current ruler: General Muhammadu Buhari.
Indeed, the narrative of Nigeria's 3rd Republic thus far, will be very deficient if your incisive and deft inputs were omitted. As a man who has put in so much in political service, it is essential that conscious efforts are made to court a positive perception by posterity whilst at the same time laying and building on foundations for a sustainable, equitable and just society.
It is in the light of the foregoing that it has become imperative and critical, that appropriate analysis and assessment of your current aspiration with regards to the 2023 general elections are made, so that whatsoever decisions your goodself ultimately arrive at, would have been one arrived at in full consciousness of the circumstances.
Used & Neglected
Dear Asiwaju, your role in repackaging an ethnoreligious extremist and ex-Military dictator, notorious for extrajudicial atrocities, muzzling the media and total disregard for the rule of law, as a 'reformed democrat', and against all odds, ensuring he attained the constitutionally required geographical spread of electoral votes which served as lifeline towards the ascendance into office of the incumbent President of the Federal Republic, Muhammadu Buhari, is all too self-evident.
Despite your role in the emergence of the incumbent President, your goodself was ignominiously sidelined in the governance structure of the APC coalition which you were vital to its emergence. With the Presidency actively engaged in efforts at whittling down your authority within your sphere of influence and encouraging your nominees into the Federal government to disparage your foundational role.
There is no doubt that your goodself might have been motivated by altruistic and patriotic desires in seeking to wrest power from the government of then President Goodluck Jonathan. The reality, however, is that due to a most extreme clannishness and religious bigotry unprecedented in the annals of Nigeria's history, your goodself and whatever impacts you might have intended under the regime you were crucial in installing, were sidelined in a most reprobate manner.
Only for the same regime to remember your existence as they struggled towards the 2019 general elections – which you, once again, against expected indices, played yet another vital in securing for the current regime of Gen. Buhari.
Pyrrhic victory at primaries
I verily believe, dear Asiwaju, that the means via which you emerged as your political party's candidate at the APC Presidential primaries in Abuja a few weeks ago would have given you a clear insight as to the intendments of the characters for whom you had sacrificed so much to get them into power.
After several months of outright denial of a gentleman's agreement your goodself asserted you had with the incumbent President and his handlers for power shift, with the government embarking on all-out schemes to compromise your worth, akin to the antics deployed during General Buhari's first term in office. The APC Northern Governors went public with provocative comments that there had been no such agreement for a power rotation or shift, and that all Nigerians were welcome to aspire to be president under the APC platform. The APC Chairman, Alhaji Abdullahi Adamu, had progressed on that ill-informed path, daring your tenacity of purpose and convictions, by endorsing the candidature of the current sitting Senate President, Ahmad Lawal, as the preferred presidential candidate of the APC for the 2023 general elections.
Your goodself had to resort to extreme measures, to wit: your public pronouncement at a political rally in Abeokuta where you pointedly stated, 'emi lokán' (Yoruba phrase which means it's my turn to rule) and later at same venue, reminding Buhari that he had come to prostrate before you, pleading for your support before you intervened to halt his serial electoral loses after three presidential polls. Your particular words at that event, 'ose kán, ose k'eji, ose k'eta, olule', (he (Buhari) tried once, twice and thrice, and failed flat on his face at each try), has since become part of political folklore in southwest Nigeria.
If you recollect, dear Asuiwaju, the APC Chairman, Adamu, had the temerity to publicly threaten you with dire consequences for daring to voice out the truth about your role in foisting Gen. Buhari on Nigeria as President. It was only after it dawned on these political extremists that you were willing to reveal more sordid details which would unsettle the Government, that a hasty volte-face was patched up, and the same Governors, Party leaders who had threatened you a few days earlier, suddenly reversed themselves and claim to support your candidature, and thus your eventual emergence as APC Presidential candidate at the Abuja presidential primaries.
Post-primaries permutations
The smirking face exhibited by the President and the APC Chairman as they helped your goodself hold-up your shaky hands to uphold the APC flag at the end of the presidential primaries, and the smugness that characterizes their mien whensoever these associates of yours present you as the APC Presidential candidate, whilst fully aware of your health and physical frailties, is self-evident and suggestive of a ploy to use your goodwill for the sole purpose of ascending into office, and thereafter do their will.
A cursory inquiry into the 180⁰ turn around and pretentious support of your candidature by the government and leaders of the APC, and their imposing on your goodself as your Vice Presidential candidate, Alhaji. Kashim Shettima, a suspected sympathizer of extremist Islamist ideology grossly implicated in the infamous Chibok 'abductions', who has, without the presidential elections even taking place, already arrogated to himself the role of Commander-in-Chief of the Armed Forces (in clear violations of the provisions of the Nigerian constitution), is suggestive that there is intent to take advantage of your advancing age to steer the ship of state in a direction antithetical to the secular and federal ethos of the Constitution. Clearly, if your presidential ticket continues as is, Nigeria and its peoples will be enmeshed in a far deeper quagmire than the current regime has punished the peoples of Nigeria with.
In keeping with projections made by experts and practitioners versed in the antics of the leadership of your political party who merely allowed your goodself to assume the role of the APC presidential candidate for the 2023 elections, and in line with what transpired during the 2015 presidential elections when high ranking members of the ruling PDP publicly worked against their parties presidential candidate, the same APC Governors and leaders who at the last minute adopted your goodself as their preferred candidate, have begun to declare allegiance to one of the opposing parties, in a move that is intended to expose you to public odium and in payback for your objective stance in revealing the role you played in the enthronement of the current regime.
I believe you are very conversant with the facts enumerated above. You might presently be under the misconception that despite all these, it will still be possible to control the situation in the unlikely event that the elections proceed. When the reality that those behind the schemes described above are the same persons who threatened to overflow the polity with 'the blood of baboons and monkeys' in the event of their electoral loss, and who have confessed to having gone outside the shores of Nigeria to recruit mercenaries to thwart the electoral process, it becomes clear that it is in the best interest of all for the vile machinations planned, to be aborted long before it has any opportunity to manifest.
*A call to rise above self*
Dear Asiwaju, it is my candid advice, and that of those who hold you in esteem, that you use the opportunity of your nomination as the presidential candidate for the APC in the 2023 election to undertake a path and role that will forever enshrine your goodself as a man who: when it mattered most, sacrificed personal interest for national interest; who was willing to let go a ticket that will perpetuate divides amongst people in favor of an act that will cement bridges; a man who lived above treachery and ethnic schisms, whilst setting high bars for good governance and national cohesion. It is that sacrifice and willingness that you are now being, most respectfully, invited and urged to make.
When your goodselve examines the other contenders for the Office of President at forthcoming presidential elections, you will readily arrive at a conclusion that the Labor Party presidential and vice presidential candidates, Peter Obi and Datti Baba-Ahmed respectively, are imbued with those qualities and attributes that is suitable for the leadership Nigeria requires to overcome decades of bad governance; represents the requisite equity and balance that will portray Nigeria as just; and has exhibited the candor and attainments that makes them ideal to preside over the affairs of Nigeria and ready her for future accomplishments.
I do hereby humbly call on your goodself, to withdraw forthwith from the presidential race (thus denying those who seek to rubbish your image for parochial and skewed reasons, an opportunity to so do), and wholly endorse, support and work towards the success of the candidature of Mr. Peter Obi and his Vice, Datti Baba-Ahmed, as presidential and vice presidential candidates respectively of the Labor Party in the presidential elections slated for February 2023.
If you hearken to the request above, your goodself would in addition to having elevated the bars of altruism and patriotism in service of Nigeria to a whole new level, cemented the proverbial and palpable 'bridge across the Niger' (and even beyond the Benue), announced yourself as a champion of equity and justice, invested in the prosperity and progress of Nigeria, and above all, carved an indelible pivotal position for yourself in posterity as a man who damned retrogression and infamy in favor of progress and glory of his country. Posterity will forever remember you and your name will join the ranks of the Nkrumah's, Jomo Kenyatta's, Azikiwe's, MKO's amongst other great Africans who rose up to be counted when it mattered most.
Remain blessed, dear Asiwaju.
Yours
Eze Eluchie, Esq.