GOLDEN GALS OF THE TUBE, WHERE ARE THEY NOW?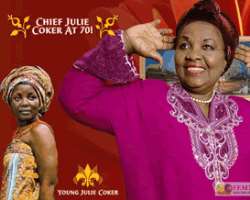 They found their way into our living rooms through the screen and left lasting impression with us. They captivated their television audience across the nation with their velvety voices as they read the news. While their diction was flawless, their pronounciation was perfect. Their excellent mastery of the art of broadcasting and their confidence in news delivery endeared them to millions of viewers.
They held sway at the Nigerian Television Authority and were the cynosure of all eyes, both within and outside the NTA premises. They held people in awe with their impeccable sense of style and charm. They are beautiful, ambitious and successful. They put their bodies and souls in the profession and did it with dexterity and passion
Not only would people hasten up whatever task before them simply to catch a glimpse of these women when it was time for the 9'clock news, even, visitors to their Victoria Island office often prayed for an opportunity to see them. They were the female newscasters of the network news on NTA
They lived on the fabulous lane. Haute couture fashion was their trademark while their entire lifestyles were woven in sheer glamour. Their sense of style was without fault and they were agenda setters in the fashion circle. It is not an exaggeration to say that most women who watched NTA network news at that time, did so to see what fashion the female newscaster would appear in.
They were the society sweethearts. Men's desire to have them made daily headlines in the media as some were ready to give out the entire world to have them while women made them role models and tailored their lifestyles after them.
However, for many of them, their private lives were more like an open book. The fact that they were in the public glare made them like the golden fish which has no hiding place. And while these tube gals soared high and recorded such success in their careers, that wasn't the exact case in their relationships. Their second fiddle placements in men's lives was a subject of public knowledge.
Welcome to the glamorous lifestyles of the golden gals of the screen.
After spending most of their working lives in front of the cameras, these women had to leave the profession that brought them fame and fortune. They moved on to other spheres of life.
While some of them veered off completely from the limelights to pursue other passions, others are still romancing the media but in corporate communications. Some of them are; Julie Coker, Sienne Allwell-Brown, Ruth Benamezia-Opia, Ronke Ayuba, Funmi Odubekun and Lola Alakija. Others are Vera Ifudu, Jamila Atiku Abubakar and Elizabeth Nze Uzoukwu, Benny Uche and Evelyn Russell
Do their television audiences miss them? Of course, yes,
In this edition of Midweek Magazine, the Daily Sun Style desk x-rays the lives of some of these female broadcasters and their current endeavours.
JULIE COKER
She belongs to the first generation of female broadcasters in Nigeria. She is a boundary breaker and a woman who scores firsts. The 70-year-old Julie started out her career at WNTV Ibadan and was the first female to read the network news which had hitherto been read only by her male counter- parts.
Julie, who was most famous for her silken voice and smooth delivery on TV, was a metaphor for excellence, has remained a role model for young women aspiring to be broadcasters. Her radiant looks held her viewers spellbound and wanting for more all through her life on the screen.
In the course of her career which spanned for about 30 years, she was actively involved in every sphere of television programming, grew to become one of the first women to run commentaries during the first All African Games in Algiers. During her TV career, Julie, mother of the television screen, who is a first cousin to the talented international songstress, Sade Adu, is a modest personality both on and off screen.
Julie was a metaphor for excellence, the first Miss Nigeria at 18 and later on to become Miss West Africa. The beauty queen with the catchy unforgettable name for a long time has remained a role model for many for many young women aspiring to be broadcasters. Her radiant looks held her viewers spellbound and wanting more.
A likeable personality whose life had been overly documented is still held in high esteem and the novelty never wears off. Before she took on the TV, young Julie had also had a romance with life on stage as a beauty queen. Apart from her remarkable life as a screen gal, she had tasted the fabulous lifestyle of a beauty queen.
At 18, the teenage girl had contested and won a beauty pageant in Nigeria after which she was crowned Miss West Africa. She also distinguished herself as an actress. She won many awards for her spectacular performances in the soap operas of that time. Happily living her dream as a celebrity and enjoying every second of it, Julie also tried her hands on music of which she recorded success. Her folksong album which featured tracks like Ere yon, Nineye we, Elelemi, Tse tse Ubele, Iyo-re, Oko re were produced by EMI (Nigeria)
An accomplished news anchor and author, Julie, who is gracefully aging, has no doubt left her footprints on the sands of Nigerian television industry.
Still regretting not going into private broadcasting after retirement, the TV legend, who is presently on the advisory board of the National Commission for Museums and Monuments (NCMM), shares her enormous wealth of experience by teaching students at the TV College, Jos
Julie, a restless soul and one who is continually in search and discovery of her enormous potentials, had also ventured into the eternal murky waters of politics, but without success.
The vintage and gracefully aging TV star turned 70 recently.
SIENNE ALLWELL-BROWN
She unarguably led the pack of glamorous ladies on NTA network news. Many years after she exited from the kleg lights, her audience and fans still adore her.
The renowned news anchor took off from a privileged background. The petite blue-blooded gal hails from the famous 'Brown' lineage, who distinguished herself as a great professional literally stole the heart of viewers with clear diction and personal style.
Known for her remarkable dress sense, Sienne who also trained as a lawyer, left no one in doubt that she was a master and was on top of her chosen profession.
She bestrode the NTA territory like a colossus and was a role model to young girls who aspired to take a shot at the electronics media. There is no doubt that her image exudes high level of confidence in addition to brains and brawn. From her days as a television gal, Sienne's huge appetite for haute couture was not hidden. She had such impeccable sense of style that could make some women green with envy. In fact, a lot of ladies essentially tuned in to the prime news hour just to get sketches of her iconic outfits. Even now that she is no longer in the public eye, she still holds the ace in fashion trends.
After a fulfilling career in what seems to be the most glamorous beat in the electronic media, travelled across several continents spanning about three decades, she felt it was time to move on. She finally bid goodbye to the cameras.
In a swift move, Sienne's role changed from being a news anchor to a General Manager, Rivers State Television. A little later, she went back to legal practice as a principal partner in a law firm before serving as a commissioner in Rivers State.
Today, Sienne functions as the General Manager, External Relations Nigeria Liquified Natural Gas (NLNG, Limited.
With her sharp-sand paper voice, the spokeswoman for NLNG exudes confidence in her rather contrasting diminutive size, a fact that may come as a surprise to one meeting her for the first time since she appears bigger on-screen. She's handled every critic or missile targeted at NLNG credibility with intelligence and utter professionalism.
Many a female practitioner today have attested that Sienne is the reason they chose this profession.
A role model and a source of inspiration to a lot of young people, she has spearheaded and embarked on various youth-empowerment programmes Sienne has been recognised both locally and internationally. She was among 10 Nigerians to make it to the Board of Analysts of Business World, an economic intelligence publication. Naturally, she is the Editor-in-Chief of NLNG - The magazine is an in-house magazine of NLNG Limited.
In spite of her busy schedule, Sienne still finds time to attend social functions
VERA IFUDU
A top broadcaster and a risk bearer, aptly describes Vera who risked all she had worked for in life to expose the truth in a bid to help the citizenry to understand the corruption that pervades the Nigerian government.
Vera's story tells a high sense of professionalism and courage. It was the truth being told without fear or prejudice. Youthful Vera was a star reporter with NTA.
Aside from the traditional fame that accompanies her profession, her case was that of the hunter becoming the hunted. In a dramatic twist, Vera was NTA Senate Correspondent who got fired in the Shagari administration's when she challenged them in the alleged N2.8 billion NNPC scandal. Of course, the leaders had vehemently denied any knowledge of such missing funds. When the case got heated up and pressure built up, the resourceful journalist in her distinctive voice cleared the air by producing the tapes.
This confirmation infuriated the authorities more. While a few people thought that the brave gal should have been rewarded with a trophy, she was instead castigated and her action came under severe condemnation. She was labeled a common criminal and several attacks and threats to her life began.
When she couldn't take the ensued threats, she opted to leave the country. Since then, she has been an active discussant at various international conferences.
The powerful elements in government at that time might have succeeded in gagging the investigative journalist and making her flee the country of her birth but her fighting spirit remains intact.
Even as a fugitive, the fearless woman who is still as active as ever has been a front-line crusader in the pursuit of creating new frontiers for the Igbo. Vera, who made her marks during her stint at NTA chose to follow the path of glory in her chosen profession.
Presently, Vera Ifudu resides in New York, US and she is a sister to Dora Ifudu, who was also an accomplished musician in Nigeria in the 80's.
RONKE AYUBA
For ravishingly beautiful Ronke, providence had thrusted upon her the role of a newsmaker. The high-profile broadcaster whose fluent delivery of news on the network belt distinguished her from her peers would later become the First Lady of Kaduna State.
She also made greater headlines after she left NTA. Incredibly beautiful, well preserved and better with age, Ronke still retains the same dew-fresh look that held viewers spell-bound years ago. In fact, her precise and masterful intonation left most viewers wondering if she was a Briton.
Ronke, who could best be described as an hour-glass beauty is currently one of the leading matriarchs of high society and a head-turner with her simple but exquisite collection of jewellry and a great sense of style.
She is among the group of TV gals who bagged for themselves, rich and powerful men in the society as spouses. Married to a retired army general, Tanko Ayuba, who was a military governor and later, Senator in this democratic dispensation.
The gorgeous ex-first lady had at a time disappeared from the social circles in order to take care of her ailing hubby.
The former broadcaster turned businesswoman radiates is a mentor to many of the new crop of female broadcasters. Ronke Ayuba was a member of the Negotiation and Conflict Management Group (NCMG).
JAMILA ATIKU-ABUBAKAR
Formerly known as Jennifer Iwenjiora, in her days with the Nigerian Television Authority, the Onitsha-born pretty woman has metamorphosed from a simple TV reporter to one of the wives of one of most influential men in the corridors of power in Nigeria.
She leads the group of women who got very juicy offers in marriage proposals. Now known as Jamila Atiku Abubakar and wife of former number two man, the former journalist is presently founder, president and CEO of GEDE Foundation, a non-profit organisation based in Washington DC with a Nigerian office in Abuja.
Welcome to an interesting life of Jamila.
The former NTA gal who embraced Islam and changed her name to Jamila after her marriage to Atiku has three lovely kids for the former Vice President. She is often touted as Atiku's second wife perhaps, because Titi is the unarguably more visible than the other wives. Jamila spends more time abroad than in Nigeria since her marriage to the former No 2 man, in fact, she is the only wife amongst the four that lives outside the shores of Nigeria.
So immense was Atiku's passion for Jamila, that he divorced one of his wives Hajiya Ladi to marry her. She was his martial cruise missile and ace up Atiku's sleeve in his failed 2007 presidential race. Sophisticated, beautiful, delicate with a hot brain, she was certainly a choiced partner for a highly ambitious man.
An indigene of Onitsha in Anambra State, she almost stole the spotlight from Titi, Atiku's first wife. A $2.2million mansion in Potomac, Maryland, US, was her home before the alleged scandal Atiku was enmeshed in some time ago.
By 2008, the cosmopolitan lady had taken up a job as Assistant Professor of Political Science at the American University of Sherjah, UAE.
Jamila's foundation, however, is a success story and has helped a lot of financially-disadvantaged youths totalling over 300. She is philantrophist, who has used her role as a high-profile socialite to assist a lot of poor and sick people. Her foundation helps to prevent, treat and care for people living with HIV\AIDS in Nigeria.
She also boasts of an intimidating academic portfiolio. She holds a doctorate in International Relations from the American University in Washington D.C, a Masters in International Politics with concentration in International Law and Communications and a first degree in Political Science and Communications. She serves on the Board of Advisors of Charity Network International, CNI.
FUNMI ODUBEKUN
Funmi belongs to the league of female news anchors at NTA. The pretty and dark complexioned lady also brought colour and charm to the screen.
Like most of her contemporaries, Funmi kissed goobye to the screen and the fame which came with it. In spite of all the goodies that the electronic media had brought her, the Ijebu-Mushin, Ogun State indigene seemed not to have lost the understanding that change is a constant thing in life, and so, she explored her second innate gift.
Upon leaving the NTA, she took a job with PIVOT Engineering. While working there, she passionately explored opportunity of excelling. Being on top of the game was her utmost desire and pursuance of her set goals, who took up various courses in her new area of endeavour, set up her own company 1999 after resigning from PIVOT.
Perhaps, in reminiscence of Abeokuta having been where her career as a pioneer of Ogun Radio (now Gateway Radio) kicked off, she went back to start a new-found career in properties.
Presently, she is the Managing Director, No Excuses Homes.
In a previous interview, the former TV gal confessed that she missed life as a broadcaster initially, but is happy and content in her new calling. Called 'gypsy' by close friends because of her inclination to move to different locations very often, Funmi admits that it could be uncomfortable and unnerving but it just has to do with the nature of her work.
Many are still surprised that after her long romance with glitz and glamour associated with broadcasting, the glamorous lady could conveniently switch over to a relatively rough terrain such as properties.
Now, out of the public glare and obviously living a more quiet life, Funmi is a philanthropist and a mentor to a lot of young entrepreneurs. Since leaving NTA Channel 10 , 24 years ago, she just plugged off from the social scene. Having successfully explored and discovered her second talent, Funmi, who believes that everyone is endowed with more than one gift from God is more involved in helping the less-privileged in the society.
Disclaimer:

"The views/contents expressed in this article are the sole responsibility of the author(s) and do not necessarily reflect those of The Nigerian Voice. The Nigerian Voice will not be responsible or liable for any inaccurate or incorrect statements contained in this article."