MAN SELLS 42 DAY OLD DAUGHTER, SAYS NO MONEY TO CATER FOR HER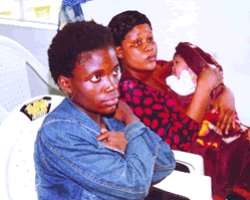 Chinwe and Chioma with the baby
It might sound incredible, but it is true. A 37-year-old man, Izuchukwu Onyekwere, has been picked up by police operatives in Rivers State after selling his own child, a 42-day-old baby. Onyekwere allegedly sold his new baby for N100, 000 without the consent of his wife and mother of the child.
The incident happened on July 16, 2010. Onyekwere was said to have connived with a nurse, one Mrs. Chioma Chima to sell the baby. After selling the baby, both would then share the N100, 000 equally, Daily Sun learnt.
The wife, 23-year- old Chinnwe Iwu, was pregnant for Onyekwere. On June 4, she went for the delivery of the child at the house of a registered nurse. But, according to her, soon after the delivery, she discovered that the baby was nowhere to be found. She asked the nurse, who informed her that the baby was dead.
Suspecting that she wasn't being told the whole truth, Chinwe quickly reported the matter to the police at Rumukpakanni, Port-Harcourt.
Iwu added that the policemen followed her and arrested the nurse, who confessed to the policemen that her husband connived with her to sell the baby.
Onyekwere did not deny the crime when he spoke with Daily Sun. Said he: 'It is true that I connived with the nurse and asked her to sell the baby to one Juliet in Warri. I did it because I could not raise the money to take care of the baby and so the deal was struck.'
Onyekwere, who hails from Abia State, explained that the parents of his wife were asking for their daughter's bride price, noting that they were threatening to take both the baby and the wife. He explained that it was better for him to sell the baby.
The nurse, Mrs. Chioma Chima, 30, confirmed that she actually sold the baby girl to one woman in Warri, who used to come to Oyigbo to buy clothes
Chima, who also has a new baby, said Onyekwere told her to keep the baby but she could not nurse two babies at the same time. That, she claimed, prompted her to give the baby to Juliet whose address she claims she doesn't know.
Speaking on the incident, Commissioner of Police in Rivers State, Mr. Sulaiman Abba, described the incident as shocking. He said the two suspects would remain in police custody while investigation into the incident continues.
According to him, the nurse has led police detectives to Warri. The baby has since been recovered, he added.