MY PASSION FOR WIDOWS – LADY PATIENCE IZEBU, PRESIDENT WIDOWS MITE WOMEN EMPOWERMENT ORGANISATION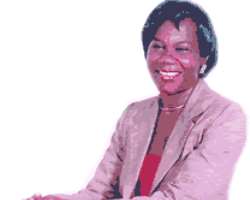 Lady Patience Izebu, who lost her husband in a car crash, two years ago is championing the cause of widows and fatherless children in Nigeria since last year with her NGO, Widows Mite Women Empowerment Organisation.
Izebu, the CEO of PABO enterprises lost the essence of living after her husband died, she convinced herself that he went on a journey and will return, which didn't happen. She did not just wake up with the idea of setting up an NGO, it wasn't in her plans at all, but God gave her the mandate of putting smiles on the faces of widows. Her love for the less- privileged earned her this responsibility and she doesn't allow rejection slow down her work.
A mother of three, Izebu told Daily Sun that widowhood has drawn her closer to God and why she was chosen to care for widows. She also shed more light on her NGO, why she will not remarry as well as the treatment she got from her in-laws when she lost her husband. Excerpts:
Why do you focus on widows with your NGO?
I did not just dabble into caring for widows; it was a call to serve. I am also a widow, so I know the pains of widowhood. I lost my husband in a car accident in 2008 and got the calling to care for widows in 2009. One morning, I woke up with so much sadness in my heart that I questioned God why He allowed my husband die. He replied me that I was not the only one.
He sent me to other widows to cater for them and alleviate their plight. God told me that He is sending me because I can do it and that He would be with me. The name Widows mite was also given to me during my encounter with God.
Setting up Widows Mite Women Empowerment Organisation
I launched the Non -governmental organisation called Widows Mite Women Empowerment Organisation in 2009. That day, children of three different widows were given scholarships to study from primary to University level by the trustees of the NGO. Today, they are benefiting from that kind gesture.
How did you convince people about your NGO and how did they receive you?
Being a widow, my experience so far was enough to convince them that widows are suffering. This is because when a woman loses her husband, the world becomes a desert to her. Her friends and family members leave her to her fate, abandoning her and the children. They claim they have their own problems and therefore, can't lend a helping hand. As a widow, one needs constant company, you want to talk and discuss with people. I had to convince people that my NGO is genuine by making real the sufferings of women who have lost their husbands and who are not working, have no skills neither any business to call their own. People trust me that whatever I get for these widows will be used judiciously. Nigerians are good people; I was received well and supported well too.
In your opinion, is it advisable for a woman to be idle even if her husband is financially buoyant?
No. As a married woman, you have to contribute your own quota in building your home financially. If you have a talent, put it to use. Do not wait until your husband is no more to work or engage in a business. At times, men are selfish, they order their wives not to work or do business. When they die, they leave their wives at the mercy of family members and friends who are not willing to help out sometimes. Some of them feel threatened when their wives are doing well in their careers, they want them to stop and it is not good for the woman because of any eventuality. Women should engage in whatever brings them an extra income to support their husbands. It is a thing of pride and fulfillment.
What was your first reaction when you lost your better half?
My first reaction was just to die. I felt like dying and following him wherever he had gone. People who consoled me then had a hard time because I always told them he was coming back. But when that didn't happen, I felt the need to move on for the sake of our children.
How then did you overcome your initial shock?
It was not easy for me, but I overcame that hard time of my life through counseling and prayers. A lot of people counseled me at different times until I decided to counsel myself. I took it to God in prayers and allowed Him to help me overcome the pain of losing my husband.
Do you think God allowed you to experience widowhood so as to bring you closer to Him self or was it to equip you in assisting other widows?
I would say for both reasons. When my husband was alive, my life revolved around him and I didn't have time for God. Today, I know many verses of the bible through my constant meditation on God's word. Also, he allowed me to lose my husband so that I would know how it felt to be alone and better equipped to help other widows.
Why did God choose you and not someone else?
I don't know why He chose me. But if I have a say in the matter, I would say because of my compassion for the less privileged. I am very compassionate about people who are downtrodden in our society. I would say being a crusader for widows is not new to me.
What were the challenges you faced when you launched widows mite?
A lot of people felt it was too sudden. I was advised to give it time, but they didn't know that caring for these women is the only thing that gives me joy. It went beyond caring for widows, but proved the depth of my passion for the less privileged. Another challenge is convincing people to assist us. A lot of widows are financially handicapped and because of their status in the society, they can't meet people I would be able to meet for financial assistance. It is not everyone who welcomes the idea of partnering with me to help these widows. Some women don't even want to listen to you once you approach them. These women are suffering silently and need help. No woman writes application to God to become a widow, it is unavoidable and can happen at any time.
How do you get resources to cater for these widows?
I support them with whatever I can afford at the moment. In addition to that, I meet people for financial support; write appeal letters to corporate organisations to assist the NGO in giving these women and their children a good life.
In the cause of soliciting for funds, have you ever been embarrassed by anyone?
Yes. I went to someone I knew very well to solicit for funds and she sounded as if I was begging her for money for myself. She was very rude that I felt like disappearing from her sight. Although she did that, I felt sorry for her because she can't tell what would happen to her tomorrow.
Did you feel bad at that point and did you feel like quitting?
No. It strengthened me. I felt she didn't have compassion for widows like I did, so I took it like one of those things you put up with while following your heart. If majority of Nigerians believe in what I do and assist me, one person's refusal won't make me quit the assignment God gave me. So far, Nigerians are responding well to my cause. The NGO is just a year old but has recorded a level of success.
How many widows are you catering for at the moment?
Six widows. I have been able to help their children in terms of education. With the NGO, more widows are going to benefit from our programme which will focus on skills acquisition and starting a business. This will make them financially independent to cater for their families.
My dream for Widows Mite
I want widows to be well-equipped, empowered to the point that they will not depend on people to feed and send their children to school. My dream is to see widows to come out of their shells, being a widow doesn't mean they should hate life and stop living. It is an experience they have to overcome.
As a widow, would you say our culture and society is fair to the plight of widows?
No. Widows are always accused of killing their husbands. Most times the in-laws seize the opportunity to dispossess them of their possessions and nothing will happen. Nobody will question them; neither will the offenders be punished. They call it upholding our culture and tradition. It is heartless that people take advantage of widows and treat them like animals. This can only be corrected if we all bear at the back of our minds that they are humans like us and should be treated as such. Nigerians should put themselves in the shoes of these women and give them a reason to live and smile again.
When you lost your husband, what kind of treatment did you get from his family?
They treated me well. I was treated as if my husband were still alive. I was encouraged by their care for me and my children. Their support helped overcome my husband's death.
What were you doing before setting up your NGO?
I was into fashion designing. Now, I have moved into interior decoration because I believe so much in cleanliness. I am the CEO of PABO Enterprises, a catering, event planning and interior decorating company.
Do you wish to remarry?
For now, I am married to Jesus and have no intention of remarrying. I want to take care of my children.
Would you advise widows to remarry if they have the opportunity?
For the young widows, I would say if they have to remarry, they shouldn't rush into it. This is because men tend to take undue advantage of them. Caution is the word. They shouldn't believe a man will make them. Since I lost my husband, no man will say he has helped me achieve all the things I have achieved. It is through hard work, widows should not be lazy. They should be hard working so that men will not mess them up.
Tell us about yourself
I am Lady Patience Izebu, a trained secretary. I worked with an accounting firm years back. I worked for ten years and then retired into private business. I still intend to equip myself the more. I am blessed with three children.
My advice to women
Women should bear the number of children they are capable of catering for. This is because when their husbands are no more, they are left alone to cater for these children. Having many children in that situation could be very tasking and financially tiring. Women should awake from their slumber and do meaningful things with their lives and talents to better the lives of their children. In addition, they should not look up to men for help because men will disappoint them. It is only God that cannot abandon anyone in need. Widows should put their trust in God for financial supplies. The Bible says that God is the defender of widows and the father to the fatherless.