DUKE'S EXPOSÉ AND JEGA'S CHARGE TO RECS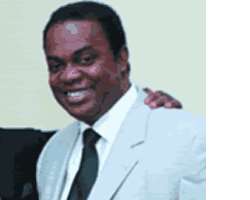 IT is indeed the kind of down-to-earth, heterodox view you don't expect or hear these days on how elections are won or lost in Nigeria even before the poll is held. Democracy needs those who had been 'inside' the arena and now 'outside', to make it, not necessarily honest, but how it can work. But Nigeria's political history leaves little crumbs for comfort.
It is so because, almost always, our government and politicians live in denial. They love the blame game. No one wants to take the heat or accept that he knows or is part of the systemic flaws that corrode our democratic process. Rather, both government and the political elite, especially those who have occupied sensitive positions before, prefer to look asleep at the switches as our problems accelerate.
But one man, armed with a dose of benefit of hindsight, has let the cat out of the bag. He is perhaps on a redemption song. That guy is Mr Donald Duke, former governor of Cross River state. It is not unkind to say that many of our elected politicians, when out of office become derelictly irrelevant. They feel like on fish out of water.
They can't write memoirs from which the rest of the society can share their experience while in office, to the benefit of the system. For many, speaking out loud is against every instinct in their body, possibly for fear of being labeled a shaggy rebel. That largely explains why most of our politicians die with the experience they garnered while in public office. Small wonder then why voting, a key aspect of the democratic process, has not counted much in Nigeria's democratic experiment.
Mr Donald Duke, it appears, is not 'afflicted' with one of these 'occupational diseases' that hold our politicians down from speaking up on why rigging continues to bedevil the process, and why your vote may never count until the virus in the process is eradicated. For those who don't know Duke up close, he has many virtues apart from his raffish looks. Eloquence and gift of presence are two of them. You will most likely notice him in a crowd. In this era where the camera is unkind to men who look shifty, Duke is a tanned and handsome man. In politics where appearance means much (though not so in Nigeria), Duke is easy on the eye. He looks presidential even as governor.
These virtues are not an embellishment of his outward attributes. They are real and evident for any one who cares to look at him to see. In addition, he has a stunningly beautiful wife, Onari (which means, God hears, He answers).
These are the side attractions of the larger issue that has made Donald Duke the topic this Tuesday. It is his detailed, extempore speech at the Transcorp Hilton Hotel, Abuja a fortnight ago on how elections are rigged in this country. It is an exposé of the revolving door of election heist that continues to subvert the popular will of the people.
It is a quadrangle web that involves state governors, Resident Electoral Commissioners (RECs), Presiding Officers, and Electoral Officers, during elections. Within the electoral body, you can call it a Trinity of winning election. The state governors who are the fourth-leg that makes it a quadrangle is the 'oxygen' that gives it life. Perhaps if you didn't read Duke's exposé in The Guardian, Sunday, July 18, on why your vote has never counted, and may not count, I will avail you of some of the secrets he unveiled, quote him where necessary, and interpret his comments within the context that gives it meaning.
But first, lets sketch the background and identify the problem. There is no doubt that many Nigerians have deep seated grievances against the Independent National Electoral commission (INEC). Perhaps never in our contemporary history have we seen an electoral body and its leadership so maligned, their integrity so impugned and rubbished as it is done today. In recent past, it became the pastime of many to invoke curses on INEC and its top officials. INEC's immediate past chairman Prof. Maurice Iwu received the worst scurrilous attack by politicians who lost elections.
Some civil society groups sponsored by politicians became the cheerleaders. They did every conceivable thing to arm twist President Goodluck Jonathan to disengage Iwu before his tenure expired. Was Iwu part of this trinity in INEC that Duke identified? Will the present chairman Prof. Attahiru Jega not suffer the same fate? Duke has provided the answer. 'The chairman of INEC has little or no bearing on the success of election. That's the truth. To me, it is actually immaterial because he is the head of the administration, he takes the brunt. The best he can do is perhaps, draw up a blueprint but the implementation of that blueprint is outside his control.'
Mr. Duke then goes into the seamless details of this revolving doors of election rigging process. 'This is what happens,' he says, 'the Resident Electoral Commissioner is usually from another state…. , he comes before the election is conducted..' Painting the seamless picture with anecdotes, Duke reveals that a REC comes cap in hand, almost genuflecting before a state governor, listing things he requires in order to conduct 'free and fair elections.'
The pestering is like that of a baby asking Daddy for candies. 'Your Excellency, since I came, I have been staying in this hotel, there is no accommodation for me and the last REC didn't even leave any vehicle… so can you help me quickly to settle down…' And the Governor dispatches his Chief of Staff (COS) to sort out the problem' for the REC. One request, after another by the REC, says the Duke. Deals are struck, compromises are made. It's a quid pro quo sort of thing. According to Duke, whatever dole given to the REC is put under security vote, that bottomless account that is unaccounted for. But the corrupting 'chain' includes the Presiding Officer who co-opt other electoral officers into the 'deal'. The presiding officers, Duke explains are the 'most important' persons in this rigging, 'not the chairman' of INEC. The Presiding Officers, Duke adds, head the thumb printing which has become a constant feature in the rigging process.
'This process may sound comical and jovial,' he says, but it happens everywhere in the country and no political party is blameless. This looks like a mafia kind of operation, isn't it?
Hear him: 'its crazy to think that because you substitute Iwu for Jega, all will change.' The answer is in the negative, he says.
The confession of Duke, to me, is the most profound testimony of any former public office holder who now feels burdened by our political environment and the powerful political cleavages and interests that undermine the will of our people. His comment may have caused a stir or provoked a search for solution to election rigging in Nigeria. It is an eye-opener.
The most refreshing thing however is that the new INEC chairman Prof. Jega has warmed up to Duke's frank confession.
Reality bites. Jega knows it. It's a challenge he must take with two hands. In what amounts to reading the riot act, he has warned the RECs not to seek or accept any form of assistance, financial or logistics from state governors. He spoke while inaugurating the newly appointed RECs who are due to resume in their new duty posts this week. Instead of going cap in hand to state governors, Jega advised them to always get in touch with INEC headquarters to address whatever problem they might face or their needs that require urgent attention. His public acknowledgment that the kind of dalliance graphically narrated by Duke can indeed result in election rigging is good.
But will the RECs heed the warning? Few knotty issues are involved here. Why, in the first place do the RECs hobnob with state governors and in the process compromise their positions? Unbridled quest to make quick money, perhaps the 'bucks' of a lifetime. Any REC who has no integrity will still fall into this 'trap' regardless of the charge from Jega.
Adequate funding for INEC as recommended in the amended constitution is the key. But INEC can check this tendency of its RECs if it can institute an effective internal safety valves that can monitor the conduct of the RECs. A covert intelligence network is necessary. More importantly, the INEC chairman must lead by example. When the RECs realize that their boss is above board, and impregnable to any form of inducement or coercion from the presidency, they will think twice before kowtowing to state governors.
The fact that the RECs feel, and indeed, owe their allegiance first to the President, who appointed them, makes some of them ignore the best of counsel from the INEC chairman. The mode of appointing the RECs should be revisited. But critically, for Jega to gain authentic respect and retain the flourish that trailed his appointment, he must lead from the front, not push from the back. The sense of urgency in his voice must be matched with commensurate action. It is a mood dictated by the tempers of these times. The message is about the soul of democracy in our Land.