EARTHQUAKE IN NFF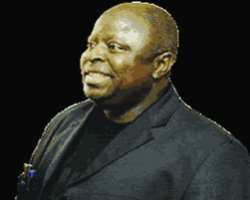 The Nigerian Football Federation's (NFF) General Secretary, Dr. Bolaji Ojo – Oba has been sent on compulsory leave. The executive committee of the football governing body in the country has directed him to proceed on the leave with immediate effect.
However, no reason was given for the sudden decision by the Glass House.
A statement made available to news men in the Glass House on yesterday signed by the acting Vice-president Obinna Ogba on behalf of the President, Alhaji Aminu Maigari confirmed the decision.
The General Secretary, Barrister Musa Amodu, who has been the deputy secretary general, special duties in the Glass House, is to take over in acting capacity.
Others who were effected with the changes are: Mrs Sa'adat Ogunjobi, in charge of Administration and Mr. sunday Okayi, head of Referee unit.
However, the incident that occurred at the National Stadium last Saturday, has led to the immediate suspension of the Chief media officer of the NFF, Mr. Demola Olajire. Olajire is facing charges of national embarrassment recorded during the last Saturday's Under-20 AYC qualifiers between the Flying Eagles and their Guinean counterparts in which the Nigerian National anthem failed, after the visiting team had its natioal anthem successfully played.
The media department is now to be headed by a former media officer, Mr. Robinson Okosun, who is to resume office with immediate effect.