Ogoni Bans Nigerian Politicians Who Use Religion As Qualification For Office
And Signals Resolution To Deny Recognition To The Next Nigerian President.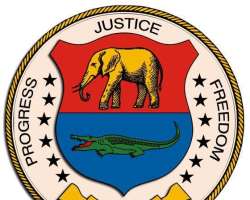 As the ban goes into force; Ogoni village and district observers would monitor and alert the enforcers to drive out such politicians if they come to Ogoniland and use religion in their political campaigns for office.
As he announced the ban today, in a speech during the tenth anniversary of the Ogoni Declaration of Self-Government, the president of Ogoni Central Indigenous Authority, Dr. Goodluck Diigbo said the Ogoni people practice multiple beliefs, and cautioned politicians who resort to religious sentiments and affiliations could face embarrassment.
Diigbo recalled that much of what happened to enhance colonial rule in the past had to do with religion, and said "politicians could focus on what they want to offer; not what people believe or how they pray. We don't want to be part of religious politics."
He outlined steps to protect the Ogoni people from what he described as "toxic Nigerian politics".
He said "the Ogoni National Legislative Assembly (ONLA), and Ogoni District Central Assembly (ODCA) are debating a joint resolution to approve or disapprove further participation of the Ogoni Nation in Nigerian political elections. The joint resolution will subject the Ogoni recognition of the outcome of all Nigerian elections to specific criteria and a test of non-religious bias. What this means is that the Ogoni recognition of the legitimacy and authority of the elected individuals will be subject to the resolution criteria and non-religious bias test requirement. "
"As the Ogoni people we do not want to shuffle our legs along the path of retrogression, and we demand Nigeria adopt minimum standard principles and practices to guide peaceful political co-existence. Why recognize them?"
"It's clear we stand for something. While Ogoni is guided by customs and traditions; the Ogoni Bill of Rights; the Ogoni Self-government Proclamation, and the United Nations Declaration on the Rights of Indigenous Peoples; among other common, sensible standards, principles, policies and practices; but right now, apart from oil money; as a nation state, Nigeria has no generally acceptable constitution; or a formative treaty to join the different tribes and nations together."
"The recent primary elections of the political parties further provide evidence that there are no independent political parties in Nigeria with discernible principles, policies, and standard practices," said Diigbo.
"The Ogoni people will not agree to lower our higher level of political consciousness just because Nigeria's elites continue to move backward. For positive change comes about through rise in the degree of consciousness;" he asserted.
Diigbo congratulated his fellow Ogoni people over how they've conducted the affairs of the self-government; "not seeking attention or acting as beggars of their own stolen wealth. We declared self-government to accept more obligations for our own decision-making, responsibilities, improvement, and wellbeing. That's exactly what the Ogoni Self-Government has done so far. It's been ten years on steady course and progress;" he noted.
He added that Food Security and General Security remain the topmost priorities of the Ogoni Central Indigenous Authority.
The anniversary events were organized in thirteen provincial headquarters, alongside virtual connections with district and village councils.
Tambari Deekor
Director, Public Affairs and
Special Adviser to OCIA President