Rights Groups Task PMB, DSS & IGP On Proactive Measures Over Threats of Genocide On Ebonyi People.
Charges Umahi on separation of governance from partisan politics, commitment to the welfare of Ebonyi people.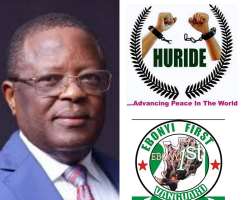 Human Rights Defenders, HURIDE; and another rights group in Ebonyi State known as Ebonyi First Vanguard have condemned the threats of violence and "genocide" issued through social media platforms against the people of Ebonyi State over the 2023 Ebonyi governorship election by supporters of the All Progressives Congress, APC, governorship candidate in Ebonyi State. The rights groups called on President Muhammadu Buhari, GCFR; Director-general of Department of State Security, Mr. Y. M. Bichi; and the Inspector-general of Police, Mr. Usman Alkali, to take proactive measures to avert breakdown of public peace in Ebonyi State by ordering investigations into the threats which is circulating on media platforms; and ensuring diligent prosecution of those behind it.
These requests were contained in separate press statements made in Abakaliki, by Ebonyi State chapter Chairman of Human Rights Defenders, Mr. Sampson Oko-Nweke and the Director-general of Ebonyi First Vanguard, Mr. Monday Eze.
Ebonyi people woke up on Tuesday to read two separate threats of violent attacks and "genocide" if they (Ebonyi people) failed to support an Izzi Nnodo man in the 2023 Ebonyi governorship election. The threats were issued with the verified Facebook messager handles of Ominyi Izuchukwu Philips said to be an aide to the Speaker of Ebonyi State legislature and APC governorship candidate, Francis Nwifuru; and Emmanuel Ojike, a media aide to Abakaliki LGA Chairman, respectively. While Ominyi Izuchucku Philips' threat read in part, "... No amount of name calling will distract us from a victory that has been divinely assured in heaven and on earth. Ebonyi governorship election 2023 is going to be a battle between a landlord and his tenants. All enemies of Izzi people will see hell on earth. If you want to cry, begin to cry well welloo because it is going to be a total genocide. All our land grabbers will go down 6fts. After 2023, anywhere you hear about Izzi people you will be terrified"; the message of Emma Ojike read, "... No wahala but after voting their candidate, they should also get their own government house and capital where their candidate will be sworn in ... When campaign kicks off, una body go know how far ... Izzi governor or nothing more".
Sampson Oko-Nweke and Monday Eze expressed worry that both Ebonyi State governor, Engr. David Umahi, and the leadership of All Progressives Congress, APC, in Ebonyi State on one hand, or Rt. Hon. Francis Nwifuru and stakeholders of Izzi Nnodo clan on the other hand have yet to condemn the threats and allay the apprehension of Ebonyi people. The duo charged the governor of Ebonyi State to be firm and separate governance from partisan politics and to show commitment to the welfare of Ebonyi State and her people across partisan affiliations.
The HURIDE boss, Sampson Oko-Nweke, argued that: "Like Izzi clan and her good people, other clans, indigenes and residents alike of Ebonyi State have equal rights to life and to own and enjoy their properties. For a certain clan (Izzi) to be priding and arrogating unto self the status of a landlord of Ebonyi State and sees every other clans and individuals as tenants is an aberration and should be condemned by all. If that is what the aspiration of a certain gubernatorial candidate tend to represent, then, Ebonyians should rise now to fight such candidate with their PVCs even if he has been endorsed by the governor".
In the conclusion of his press statement, the Director-general of Ebonyi First Vanguard, Mr. Monday Eze, pointed out that, "Pursuant to Ebonyi First Vanguard's commitment to the protection of the rights and dignity of Ebonyi people, the vanguard reiterates that no clan is landlord of Ebonyi State as every citizen of Nigeria has right to live, own and enjoy his or her property in every part of Ebonyi State. Similarly, by virtue of the constitutional rights to unencumbered franchise, Ebonyi people from all parts of Ebonyi State have the right to aspire or contest the Ebonyi 2023 governorship election as well as the right to vote for any candidate of their choice irrespective of where the candidate comes from."