Former Gov. Fayose Undergoes Critical Back Surgery Abroad  (Video)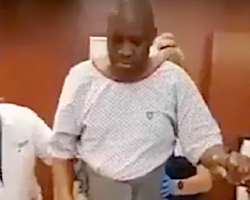 Ekiti State Former Governor, Ayodele Fayose, has undergone a critical back surgery abroad.
While looking very week after the surgery, the former governor was seen in a video being aided by doctors and nurses in an undisclosed hospital.
Meanwhile, after the successful back surgery, the Special Assistant on New Media and Publicity to the former Ekiti State governor, Peter Ayodele Fayose, Lere Olayinka, Wednesday hailed the former governor, noting that his surgery was as a result of the attack on him during the 2018 Ekiti governorship election.
Watch the video below.