Ebonyi Guber 2023: Ifeanyi Chukwuma Odii Remains Pdp Candidate.
Promises To Turn Ebonyi State Into Nigeria 's Wealth Creation Hub.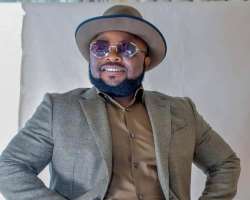 Ifeanyi Chukwuma Odii (PDP Candidate, Ebonyi State)
The court of appeal today ordered for trial de novo of the suit in respect of the Ebonyi PDP guber ticket by the court of first instance, FHC Abakaliki.
The order was made by the court of appeal to enable the appellant who claimed to be in interested party to be heard pursuant to the principle of natural justice expressed in the legal maxim, "audi alterem partem" which enjoins that the other party must be heard.
The news that the appellant was declared as the PDP guber candidate for Ebonyi State by the appealate court is mere pedestrian propaganda designed by the drowning man to hold on before the final plunge; and should be treated as such. This is moreso as the court did not revoke the candidacy of Ifeanyi Chukwuma Odii which has been recognized by Official Peoples Democratic Party (PDP) Nigeria and the Independent National Electoral Commission, INEC, in whose portals the name of Ifeanyi Chukwuma Odii as Ebonyi PDP governorship candidate conspicuously and exclusively stands.
In a telephone interview, Chief Ifeanyi Odii whose voice brimmed with confidence said: "I am still the PDP governorship candidate for Ebonyi State. While the fabricators of that infantile propaganda indulge in the attendant masturbatory ego trip it offers them, the people of Ebonyi State especially the mammoth supporters of my Ebonyi 2023 governorship project are hereby charged to be in high spirit knowing that the appellant was a mere interloper who, out of fear of defeat from me absconded from the PDP guber primaries in Ebonyi State even though he was in Ebonyi State that day. What the appeal court has ordered was that the appellant be allowed to state his grouse with my candidacy having won a primary election he absconded from. This does not in anyway detract from the authenticity of my candidacy".
Ifeanyi Chukwuma Odii, the icon of charity and human capital development in Ebonyi State, appreciated his supporters and assured Ebonyi people that his "administration which, by the grace of God, will commence on 29th May 2023 shall radically turn Ebonyi people from low income earners to wealth creators and Ebonyi State from the poverty capital of the Southeast of Nigeria to the hub of wealth creation in Nigeria", Odii concluded.