Don't Vote For William Ruto , He Will Brutalize And Persecute Kenyans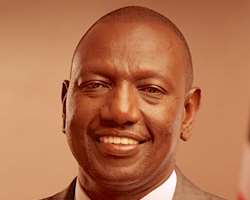 Mysterious deaths of human rights activist Ken Wafula , the Weekly Mirror Editor John Kitui and the mauverick business man Jacob Juma is closely related to selfish politics of William Ruto. The deaths of the above patriotic Kenyans happened when William Ruto was in charge of government security machinery during the first term of William Ruto's deputy presidency. The deaths were deep loss to the people of Kenya. Especially the the people of western Kenya. This is why the people of Western Kenya must practice their political prudence to vote for Martha Karua to form the next government but not Ruto.
It is William Ruto who used the state machinery to perfect laxity that led to importation of sugar to the local Market and hence killed sugar farming economy in Western Kenya. Given higher power , William Ruto has strong potential to frustrate the economy and human rights space of the people of western Kenya the way nyayo system persecuted the people of Western Kenya by playing a secret hand in the mysterious deaths of Masinde Muliro and George Kapten.The tragic deaths of these two patriotic Kenyans and illustrious sons of western Kenya took place when William Ruto and Mark Too were in charge of internal security during Nyayo Government. Thus , dear people of western Kenya don't be fooled by irresponsible political seduction perpetrated by crocodile styled- selfish brokers like Moses Masika Wetangula, a mcguffin like Musalia mudavadi and stomach conscious vote hunters like Ken Lusaka to vote for Ruto.Ruto is capable to establish a gestapo like police state to brutalize and persecute people of Kenya so that he coverts a country into a self-serving dictatorship.
Alexander Opicho writes from,Bokoli, Bungoma