BABY NMACHI: ONLY DNA WILL SOLVE RIDDLE – EXPERTS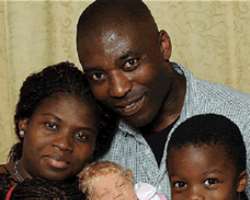 Ihegboro family
The birth of a completely white baby girl, Nmachi, by a Nigerian couple based in England, Ben and Angela Ihegboro, has not stopped generating diverse reactions.
While most have countered the claim by the couple that Nmachi (beauty of God) is theirs, given her appearance, others believe them, yet others insist that a DNA test be done to solve the puzzle. Saturday Sun interviewed some experts on the issue and their views are shockingly the same discordant tunes expressed by the public.
It's medically possible, but DNA is needed -Lolu Oshinowo, gynaenecologist
In medicine, we cannot really say anything is impossible. There are things that happen which we say they are one in a million. That exception explains the case of having an albino by Africans but mind you it is not only Africans that have albinos. There are white albinos except that there are certain features that distinguish them from Africans.
This particular case is a very knotty one. You know it happened in the labour room through C-section. Certain things happen that we don't really know the details, we may not be really sure of what actually happened. We have only been told that the baby is not an albino. Though things like that are possible in medicine, it could be a case of mutations. But even this has to be confirmed by doing more appropriate tests and that can rule out every doubt. Even if it is mutation, it has to be affirmed how it turned the baby completely from black to white. Another possibility of the baby being white is that the baby's mother's womb could have been used for what is called surrogacy in medicine. It is a situation where a couple decides to make baby by taking the egg of a barren woman, mix it with the sperm of her man and take this to a fertile woman's womb to carry.
That is done almost everywhere even in that country. If that is the case, then the mother had carried a baby that is not hers. So, it could be her husband's sperm. Sometimes, the baby could belong to her but not to her husband. So, the couple may have been used for such a thing by another white couple. And you know sometimes, people don't really tell the truth. Maybe along the line, they fell apart and our Nigerian couple decides to keep the baby. They may not really realize what they were doing initially: that the baby would come out as white.
But you see, it is a very clear issue. The parents are alive and the baby is also alive and they are in a country that you don't need to go far away to do a test that would give a hundred per cent assurance of the baby's source. So, my opinion is that they should do a DNA to confirm that the baby is actually that of the Nigerian couple. And after doing this, they also have to tell the whole world the result of the DNA. And if it confirms the parents' stand, then everyone would keep quiet and the 'furore' would be over.
She could be albino -Debo Oresanya, dermatologist
It is very possible that the baby is an albino. Even though, they have given us an impression that she is not one. The albinos can come in several pigmentations. In curly hairs, white hairs, blue eyes and so on. In Nigeria, we don't really have that genetic affinity to the whites. So, it is really difficult to say that the child is not an albino. That is if the parents are insisting that the child is theirs. But the truth is that there are different kinds of albinos. She could be just one of the species. The only way out of the puzzle is a DNA test to determine Nmachi's real source.
She is possibly albino -Bisi Bright, CEO, pharmacist/clinical consultant
Nmachi cannot be said to be an albino until a gene diagnosis is confirmed.
Baby Nmachi is surely a lovely gift from God. As reported by the press, she is a 'white' baby. In the extraordinary attention that has trailed her birth, the medics and the press have both emphasized to the world that she is a blonde; thus proclaiming that she is of Caucasian descent.
My first question is this how can you tell that Nmachi is an albino by merely looking at her? She is not the first albino baby to be born with blue eyes; nor is she the first to have a nice, smooth white skin.  Several, in fact most albino babies are born with white or golden hair; as such, the colour of her hair is also not unusual. The only 'peculiar' trait I see is, the 'straightened hair'; and, this may be explained away by observing that some babies are born with straightened hair either due to some medications taken by the mother during conception or, other insidious causes. It is rather pre-emptive and presumptuous to pronounce that baby Nmachi is not albino. Moreso she has not undergone any gene-diagnosis. Gene diagnosis is a test which will tell us whether or not she is albino; it will also tell us what type of albinism she belongs, as it occurs in varying degrees - OCA1, OCA2, or OCA3.
The medical world should avoid the temptation of using this innocent lovely family as guinea pigs; the parents do not need to be subjected to any genetic tests until after a gene-diagnosis has been performed on baby Nmachi. Secondly, the publicity generated could allow the paparazzi to inflict undue stress on the marriage; as they are speculating foul-play even though Mr. Ihegboro insists on his wife's faithfulness.
I suggest that the paparazzis and the medics should set a three-month timeline; and thereafter we will know for sure whether or not baby Nmachi is albino. By then, she would have undergone the gene-diagnosis  and, her features would be clearer. I am convinced that her skin and hair will be a little more suggestive of who she really is – albino or not.
To crown it all, take a look at baby Nmachi's nose…she has a typical flat African nose, exactly her mum's nose. I am convinced that in three months, her hair will be curly and kinky (typically African) and her other features will be such that will consolidate and absolve the entire family. Meanwhile, lucky little baby Nmachi would have succeeded in bringing her parents and family into the purview of the whole world, a feat which many superstars have failed to achieve even in a lifetime.