Amref International University Groundbreaking Ceremony
The University Shall Fill Personnel Shortfall By Training More Health Workers Of All Cadres, To Improve Access To Healthcare For Remote Communities Across Africa.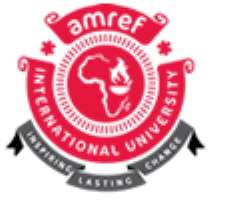 Kiambu, 9 July 2022: The president of Kenya, H.E Uhuru Kenyatta today officiated the groundbreaking ceremony to mark the beginning of the construction of the Amref International University (AMIU).
The university, focusing primarily on health sciences training, is set to bridge the gap in training human resources for health, and meet the demand for quality and holistic learning in health sciences. This is in fulfillment of AMIU's mandate of developing an appropriate health workforce for Africa's primary health care.
In his speech, the President noted that the health workforce is one of the core building blocks of any health system, and therefore the need for skilled, equipped, adequately and well-trained health workforce is critical to the. Health ecosystem.
"Our efforts to attain Universal Health Coverage and Africa's socio-economic success post COVID-19 is anchored on the recovery of it's health system, which is reliant on a robust health workforce," he noted.
This event comes at a time when availability of health workers in Africa is considerably lower compared with other regions of the world, a situation characterised by health care worker shortage and an unequal distribution of human resources between urban and rural areas.
"Scaling up and strengthening quality of health workforce education and training is key to addressing the global shortage of health workers. This investment by Amref contributes to the Ministry of Health's momentum to accelerate competence-based learning in the training and curriculum of health professionals to respond to technological advancements and changing global health care needs," said Hon Mutahi Kagwe, Cabinet Secretary, Ministry of Health Kenya.
According to the World Health Organization (WHO), Africa has 25% of the world's disease burden, with an estimation of Sub-Saharan Africa having only 1.3 per cent of the world's trained health personnel. The reality is that there is a massive gap of more than 3.5 million health workers across the world. This includes a pressing need for at least one million community health workers and 350,000 midwives. Millions more existing health workers lack the necessary support, equipment and training they need to deliver on their mandate. Although gains have been made, the health personnel shortfall is predicted to reach 6.1 million by 2030, out of the anticipated global health staff need of 14.5 million required for the attainment of UHC and the Sustainable Development Goals (SDGs).
"Access to quality and affordable healthcare remains a strong pillar in universal health coverage supported by a strong and a fit-for purpose health workforce. Amref Health Africa, through the Amref International University is committed to producing the next generation of health professionals to care for our most underserved communities in Africa," said Dr Githinji Gitahi, Group CEO, Amref Health Africa.
"The University's mission is to develop a competent health workforce which is critical in driving equitable access to primary health. Our goal is, therefore, to develop infrastructure that will provide learning opportunities for scholars and researchers who will impact and influence policy, regulation, and legislation at all strategic levels." says Prof. Joachim Osur, the Vice Chancellor, Amref International University.
The continents' shortage of health workers has, indeed, constrained many countries from adequately responding to pandemics such as COVID-19, achieving health equity and meeting population health needs. From the experiences of the COVID-19 pandemic where many frontline health workers lost their lives to the pandemic, to long queues of patients waiting to be served by the few doctors or nurses at the hospitals, there is clear need to invest heavily in a strong health workforce. Additionally, for pandemic resilience, and for Africa to achieve a healthier, safer, fairer future, the African countries must protect and invest more in the health workforce as a matter of urgency.