The Peter Obi Tsunami!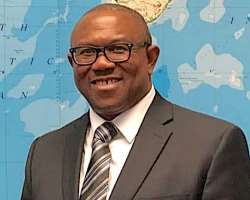 About this time last year, 2021, several keen political watchers already had an idea of who the top Presidential candidates from the major Parties, APC and PDP would be. Some expected a measure of surprises anyway.
But most believed it was going to ultimately come down to Abubakar Atiku and Bola Tinubu. Vice President Osinbajo, Peter Obi, Chibuike Amaechi, Governor Wike, Olusola Saraki and a few others were mare hopefuls.
And then the other Parties; ADC, NNPP and others will throw up the likes of Professor Kingsley Moghalu, Rabiu Kwankwaso and other fringe Presidential candidates. Dumebi Kachikwu was a surprise!
That was the position until it became evident that the PDP was hell bent on not Zoning the Party Presidential ticket to the South. In what looked like a conspiracy, the Party chairman and executive decided to keep the contest open for all.
Peter Obi was a hopeful. But he had more than a passing interest, as his actions afterwards turned out. He knew exactly what he wanted. He was not a pretender to the crown in the PDP.
In a surprise invitation, Obi was guest to the British Prime Minister at 10 Downing street. The internet shook. Pictures of Peter Obi a PDP Presidential aspirant at UK Government House got tongues wagging and people began to pay real attention to the aspirant, Obi.
The frenzy that visit generated was still on when the news broke! The news that ultimately announced the beginning of a new dawn in Nigeria broke and elicited mixed feeling from the Youth populace and of course, everyone who had a soft spot for Peter Obi and his beautiful ideas on how to get Nigeria rescued.
I personally took the news of his resignation from the PDP with disappoinment. And I submitted to an assumed unfortunate end to a wonderful dream.
I had canvased to friends, colleagues and family that Peter Obi had made a grievous mistake by resigning his membership of PDP, with a lackluster plan to pursue his political career elsewhere. PDP is the main opposition. Nigerians still largely vote party. Which credible party with structure was Obi going to approach to fly it's flag at the Presidential elections?, I queried.
I felt that he should have left earlier
As the electoral Act had a time constraint for all Parties to conclude their Presidential primary and submit names to the umpire, Obi looked like one in an illusive chase for a credible Party, and ticket.
And then, a little over a month ago, it happened. He found the Labour Party.! For many who do not know much, the Labour Party is a new Party. But Labour Party is an old Party and has always fielded a Presidential candidate. I think the Journalist, Dele Momodu once ran for the Presidency under the platform.
Obi came into the Labour Party and the Party's fortune has changed forever.
Mr Peter Obi, his charm, charisma, brilliance, eloquence, honesty, integrity, track record, political sagacity, believability, readiness for the job, grace, Youth, simplicity and diplomacy, has transformed the Labour Party to a future Presidential elections winning Party.
Peter Obi has the momentum. He has the floor. The frenzy, the excitement, positive anxiety, the positive energy, mass movement that his candidature has elicited from Nigerians all over the country and beyond is unprecedented.
Sitting Governors of other Parties are honouring him. They are making glowing remarks about him and his abilities. Some have openly campaigned for him knowingly or otherwise.
The APC and the PDP are bemused. Particularly, the PDP must be regretting it's moves. They didn't have an incline that anyone could pull off such a revolution amongst Nigerians from all works of life. The seal of acceptance cuts across age, creed, tribe etc.
Obedience is a word know to English Language. We know the meaning. Now, in a rare show of ingenuity and creativity, Nigerians everywhere who align with Mr Obi's vision of a new Nigeria are known as OBIDIENT.
Mr Peter Obi is leading a revolution. The speed at which the revolution is spreading is much like a hurricane.
Obi has become a household name everywhere in the country, all in less than two months of joining the Labour Party and securing it's Presidential ticket. Maybe we should just call him Hurricane Obi!
Wishing him the very best.
Eborah Christian Chinedu.