Clark Rejects Uduaghan's B'Day Car Gift; I Didn't Give Him Any Car - Uduaghan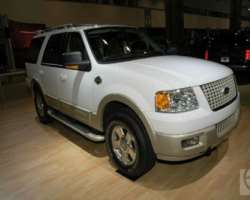 PHOTO: THE FORD EXPEDITION SUV ALLEGEDLY GIVEN TO CHIEF EDWIN KIAGBODO CLARK BY DELTA STATE GOVERNOR EMMANUEL UDUAGHAN.

ASABA, July 23, (THEWILL) – A Ford Expedition King Ranch EST 1853 SUV (see photo) allegedly presented to outspoken octogenarian elder statesman, Chief Edwin Kiagbodo Clark by Delta State Governor, Dr. Emmanuel Uduaghan as a birthday present is currently generating controversies between the Clark group and the government camp.
The car gift which Chief Clark tagged Greek gift was said to have been transmitted to the foremost Ijaw national leader through one Dr. Mike Oberabor, an outspoken critic of the Uduaghan administration.
Just last week Governor Uduaghan gave 27 cars (SUV) to 29 members of the state House Assembly leaving Hon. Abel Oshevire, representing Ughelli constituency 11 and Hon. Friday Onodjae, representing Ughelli constituency out of it, following their political affiliation to Uduaghan's political opponent, a former Secretary to the State Government (SSG) during Chief James Ibori's administration, Chief Ovie Omo-Agege.
In a press statement signed by Clark's Political Adviser, Chief Ominimini Chris Obiuwevbi, made available to THEWILL today, the elder statesman said he rejected the birthday present because he regarded it as a "Greek gift" and with his position in the politics of Delta State, he had no other option than to reject the birthday present.
According to the elder statesman accepting the gift may be seen as a sign of betrayal of trust to his teeming supporters across the state.
The Statement reads: "On Thursday, July 22, 1010 at about 3.30pm, some persons in the name of the Delta State Government brought an unregistered Expedition new Ford Jeep into the compound of Chief E'K Clark in Asokoro, Abuja.
"One of the persons later came to inform Chief Clark that the car was a birthday gift from Governor Emmanuel Eweta Uduaghan of Delta State.
"While Chief Clark expressed his gratitude to Uduaghan for this kind gesture, he wished to state categorically that this 'Greek gift' is unacceptable considering his stand on the state of political affairs in Delta State and the misrepresentation of fact this "Greek gift' may raise from his teeming supporters, followers and the Delta State Elders, Leaders and Stakeholders Forum of which he is their national leader.
"Chief Clark has therefore rejected this Greek Gift publicly in order to put the records straight and dispel any rumour that may arise out of this unsolicited gift."
Reacting, some prominent Deltans noted that the rejection of the gift was in order considering that elections are around the corner.
For Dr. Richard Tosanwumi, Chairman, National Central Working Committee of the Delta State Elders, Leaders and Stakeholders Forum, "It is not surprising to hear that Dr. Uduaghan has offered Chief EK Clark a car bribe because of 2011 guber elections in Delta state. He is very desperate to retain the governor's seat but clearly the odds are against him.
"Chief Clark knows how best to deal with this matter in the present circumstances as our national leader. For us in the opposition, Uduaghan's time up. He should pack his bag and leave government house after his disastrous rule. We are fed up with the looting of our treasury by the cabal he now leads. Deltans will not be deceived again. Chief Clark is a man of integrity and honour."
Commenting, 2007 Delta State Peoples Redemption Party (PRP) governorship candidate, Comrade Emmanuel Odafe Igbini said, "It's strictly PDP affair. It is traditional for governors and Presidents of PDP and political parties to send gifts to their godfathers and leaders. If he rejected it, he has his reasons."
Also, Prince Obaro Unuafe, former state Chairman of Progressive Peoples Alliance asked, "What is wrong in the benevolence of a jeep to Chief EK Clark, one of our foremost elders who has contributed so much to the development of the Niger Delta region? After all, Delta State legislators and other aides of the governor have recently been given exotic jeeps. Have their contributions to state's developments been as much as that of respected Chief?"
In a swift reaction this evening in government house, Asaba, Governor Uduaghan denied giving a car gift or present to Chief Clark.
According to Uduaghan who spoke through his Communications Manager, Mr. Paul Odili, "The EK Clark Foundation sometime ago wrote to the governor for support and persuaded by the ideals of the Foundation, a donation of N18 million was made to it.
"The governor did not know whether the Foundation decided to buy a car with the money for the octogenarian elder statesman or not. The governor did not buy any car for Clark. The car displayed by E.K Clark did not come from the governor," he stressed.