"I Will Not Embark On Projects That Cannot Add Value To People's lives', Ebonyi APGA Guber. Candidate.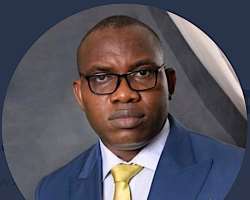 Prof. Benard Odoh (APGA, Gov. Candidate, Ebonyi state)
The governorship candidate of the All Progressives Grand Alliance, APGA, in Ebonyi state, Prof. Benard Odoh said his administration will not embark on projects that cannot add value to the lives of Ebonyians if elected in 2023 general election.
Prof. Odoh said that he will pursue investment opportunity for the state and provide conducive environment for ease of doing business to thrive thereby creating wealth for the people.
Odoh made this known while addressing stakeholders of the state in Abakaliki, capital of Ebonyi state.
He promised to put the right framework of governance in place and forge policies that will be able to engage their people constructively, adding that why Ebonyi people are hawkers in major cities was because they were not provided with correct education, skills and start off fund to commence economic activities.
The flag bearer lamented that the business investors in the state are overtaxed while some of them have closed down and promised to reverse the trend by encouraging Small Medium industries with less harassment and taxation as he plays host to business owners.
He unveiled his running mate, Dr Nkata Chukwu, a medical doctor who hails from Okposi community in Ohaozara LGA, stressing that his running mate has the skill to pull development partnership that will make the health sector work in the state.
He however decried the high cost of food items in Ebonyi state, and vowed to invest on the citizens through the provision of good healthcare facilities, standard education and proper security of lives and properties of the people.
Odoh, also called on the people of the state to disregard the rumour making the rounds in the state that the APGA has no adequate structure to win election in the state.
According to him: "Nobody should be deceived that APGA has no structure in Ebonyi and we are prepared to win election in 2023.
"I challenge my opponents in other political parties to come for debates, so that we know who is prepared to do the job. We will invest on the people and not to embark on projects that will not add value to citizens.
"We will not interfer in many things and our focus will be on the welfare of the People. We will invest on the people, then they will shun cultism everywhere.
"The issue of zoning formula doesn't matter, what Ebonyians should be considering much now, is on who is more qualified to govern the state properly.
"My heart bleed on issue concerning about Ebonyi people who are hawking in Lagos and other states of the Federation. We will provide good security, health and good education for our people" he stated.