Ebebi's Country Home Bombed, Night Guard Shot By Gun Men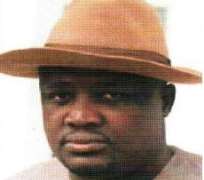 The country home of the impeached Bayelsa state deputy Governor, Hon. Peremobowei Ebebi in Aleibiri, Ekeremor local government area of the state was on the early hours of Friday morning bombed by unknown gun men with explosives suspected to be dynamite, just as his night guard Doramugha Seibulu was reportedly shot on the legs by suspected armed youths.
The incident which happened around 12;30am threw the entire riverine community into confusion, as people reportedly stayed off the streets.
Suspected armed youths reportedly invaded the community in four double engine speed boats, shooting sporadically into the air, and headed to the residence of the former Deputy Governor, where an attack was reportedly launched.
Ukpakareportes gathered that substance suspected to be dynamite was thrown at his residence, destroying its frontage, while the night guards on duty jumped the fence to take cover inside the building, even as the assailants followed one of them to where he was hiding in one of the rooms and shot him on his two legs.
One of his relations who preferred anonymity said that at the initial stage they wanted to kill him before they later decided to cripple him for life. The injured night guard is said to be receiving medical attention at Our Saviour Hospital, Bomadi, Delta state.
Confirming the incident, the State Police Public Relation Officer, Eguavoen Emokpai said detachment of police has been deployed to the community, while calling on the people to go about their normal businesses.
He said there was damage to the residence but could not confirm whether there was any casualty, as they were still awaiting reports from the Divisional Police Officer, (DPO) in charge of the area.
It will be recalled that sometime in May, Ebebi's Hotel (Latik Hotel) was besieged by security operatives when they allegedly found two undetonated bombs in the premises of the hotel just a week after a car was bombed some five hundred meters to the hotel.
Ebebi himself accused the state government of planting and masterminding all the explosions in the state before he was finally impeached, and since then, he has hardly stayed in the state for fear of being attacked.
Reacting to the development, the State Chairman of the Action Congress (AC) and the Conference of Nigerian Political Parties (CNPP),Comrade Miriki Ebikibina and Comrade Sunday Frank-Okputu respectively reacted to the report of the incident with clear condemnation of the act and asked the police authority to investigate the incident with the intention of apprehending those behind the hineous act.
While Comrade Miriki Ebikibina of the AC said though the party await the outcome of the investigations by the police, the CNPP led by Comrade Sunday Frank-Okputu cautioned politicians in the state against acts capable of creating tension and truncating the existing peace in the state,"we are shocked by the incident but we want to advise the people of the state of destroying edifices and homes of rivals in the name of politics."
|
Article source