POLICE DISCOVER ILLEGAL OIL WELL IN LAGOS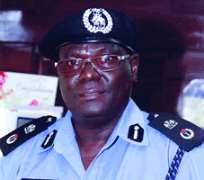 Akpoyibo
Police operatives have bust a syndicate, which operates an illegal oil well in Idimu area of Lagos. The syndicate which runs a factory where it dug a well, which it uses in siphoning fuel from the Nigeria National Petroleum Corporation (NNPC) pipeline is allegedly headed by one Okonkwo.
The syndicate allegedly dug a well inside the factory located at Diamond Estate, Idimu, where it connected a pipe to the NNPC pipeline.
A police source said the police has been suspecting movements of petrol tankers which were always going and coming out of the factory odd hours.
The police, however, tried to penetrate the company to find out what was happening in the premises but were resisted until a new Divisional Police Officer (DPO) was posted to Idimu Division.
The DPO, Mr. Ambrose Agbedo was said to have personally led a team of detectives to the factory where they discovered a well, securely padlocked. Agbedo who was curious decided to brake the padlock and was shocked at what he and his team saw. The police source said: 'The well is filled with fuel. There is a pipe connected from the well to the NNPC pipeline. The same way one fetches water with a bucket from a well, is the same way one fetches fuel from the well. The fuel in the well can serve all the cars in Lagos.'
Lagos State police spokesman, Mr. Frank Mba, who confirmed the report said: 'What we have in the well is not water. What you see is the height of creativity in the criminal world. This is illegal bunkering in more criminalized manner. The syndicate pretends that it was producing furniture polish when it is siphoning fuel from oil pipeline.
The police image maker said he was worried that the action of the suspect might have polluted the water in and around the estate.
He warned residents to be careful about the drinking water sourced from the vicinity. Mba commended the DPO for busting the syndicate and revealed that the kingpin of the syndicate and seven accomplices were in the police net. He described the crime as the height of economic sabotage, adding that the suspects would soon be charged to court.
The alleged kingpin, Okonkwo, 48, told Daily Sun that he was the owner of the factory and the well. He said he noticed that about two months ago, the well was being contaminated with fuel and he decided to lock it up.
He said he reported the contamination to an unidentified NNPC staff, but the man did not take any action. According to him, he was surprised when the police stormed his factory and opened the well and the water in it had turned to fuel.
'I am surprised that the water in my well has turned to fuel. It is a wonder that I can't explain but I swear to God I didn't know how it happened,' Okonkwo said.