Parasailing donkey stunt prompts animal cruelty inquiry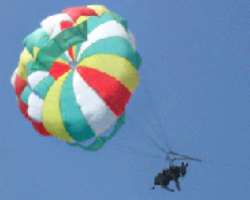 Some things in life were just not meant to fly. They include the Spruce Goose aircraft, the Russian Space Shuttle and travel victims of strike-happy French air traffic controllers.
Today we add to that list the noble Equus africanus asinus, as we learn to our horror that police are investigating after a donkey was made to parasail as part of an advertising stunt.
The donkey was sent up into the sky by entrepreneurs in southern Russia hoping to attract people to their private beach. Witnesses in the Krasnodar region said the animal had been braying in fear before it landed in the water and was pulled to shore.
"The donkey screamed and children cried," regional police spokeswoman Larisa Tuchkova told the AFP news agency. "No-one had the brains to call police." Instead, bystanders took photos and phoned newspapers, she said.
"It was put up so high into the sky that the children on the beach cried and asked their parents: 'Why did they tie a doggy to a parachute?'" Taman newspaper reported last week.
Police began to investigate after the incident, which occurred at the coastal village of Golubitskaya, was aired on national news on Tuesday. The businessmen responsible may face criminal charges for animal cruelty, and the general wrath of the Internet for being donkey-abusing morons.
Keep reading to see the shocking footage.

|
Article source